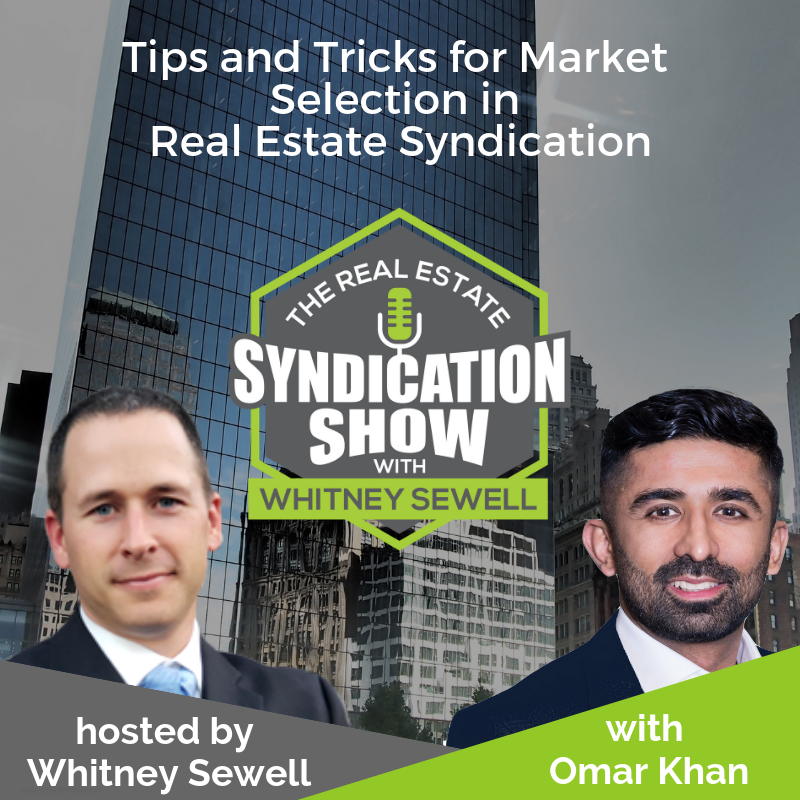 Summary:
In this episode, Whitney interviews Omar Khan, real estate investor, Boardwalk Wealth. Omar has more than 10 years of experience in real estate and commodities. In this timeframe, he has advised on capital financing and M&A transactions worth $3.7 billion. In today's show, Omar reveals the many nuances that comes into play when selecting a new market for real estate syndication. Is it really important to physically inspect a property before proceeding with your investment? How do economic indicators have a bearing on market selection? We also discuss the art of communicating succinctly with brokers. This show is loaded with some great information. Tune in now!
Time Stamped Show Notes:
00:27 – Whitney introduces Omar to listeners
01:31 – How did Omar transition to the real estate syndication business?
02:45 – How to select a new market for real estate syndication
03:25 – Omar recommends physically inspecting a property before going ahead with your investment
04:03 – What did Omar discover on physically visiting a recent property in Jacksonville?
06:38 – Omar dives into the nitty gritty of market selection; learn how the industry type and job growth type can weigh in on market selection
08:04 – How to analyse the Affordability Index before syndicating a property in an unknown real estate market
08:50 – Learn how an excess of housing supply can  have a bearing on your investing decision
10:18 – Resources for learning about housing supply
11:25 – When, and how often should a syndicator go and physically inspect a prospective property?
14:30 – How clearly stated and concise requirements can help you network and build solid relationships with brokers
18:10 – At what stage in your networking cycle do brokers start feeding your suitable deals worth analysing?
19:18 – Do not ignore the BIG picture before syndicating a new deal
20:47 – Omar shares his contact information
21:38 – Share, review and subscribe to the Real Estate Syndication Show
[spp-timestamp time="21:56″] – A special thanks to our sponsor, Lifebridge Capital
In this episode, you will learn:
Why it is important to physically inspect a property before signing on the dotted line
How to analyze economic indicators while evaluating a new market for real estate syndication
How to communicate and network with brokers in order to discover suitable deals for syndication
Resources
Love the show? Subscribe, rate, review, and share!
Join the Real Estate
Syndication Show Community: