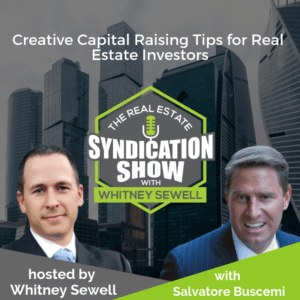 Summary:
Salvatore Buscemi, Managing Partner, Dandrew Partners LLC shares some creative capital raising tips that will help you get investors on board for your real estate projects.
How did Salvatore raise $5 million by networking with accountants? Why does Salvatore think that raising money for folks dealing in medical marijuana is a good idea? You will also learn how to structure your messaging and communication for greatest effectiveness. Other topics covered include prepping promotional material, advertising projected returns and maintaining an open line of communication after closing a deal.
Learn every detail of setting up your capital raising business at The Capital Formation Intensive March 28-29, 2019 in Las Vagas! 
Tune in for some great insights!
Time Stamped Show Notes:
00:29 – Whitney introduces Salvatore to listeners
00:50 – Salvatore started off as an investment banker at Goldman Sachs
01:48 – How Salvatore's company raises $30 million for Dandrew Strategies LLC
02:25 – Salvatore shares how his organization acquired a commercial mortgage servicer for $1 and then recapitalized it for $15 M
03:02 – Salvatore transition into the venture capital space
05:05 – Learn the nuances of raising capital at the "Capital Formation Intensive" in Las Vegas, March 28 – 29
05:57 – What was Salvatore modus operandi when he first started raising capital?
06:44 – Salvatore's reveals how he was able to raise $5 Million by networking with accountants handling 401 K's
10:11 – Ingenious Capital Raising Tips and Tricks for real estate investors
12:08 – How to structure your messaging to properly indoctrinate your investors
13:42 – How to structure your LinkedIn profile for maximum effectiveness
14:40 – Expert Tips for curating content for investors
15:16 – Importance of keeping your communications succinct
16:56 – Salvatore reveals how he used a drone video for greater impact and engagement
19:45 – Should you advertise projected returns in your promotional material?
20:44 – How to use "Scarcity" to meet your end goals
24:06 – Tips and Tricks for following up with investors
24:45 – Some great resources for speeding up the documentation process
27:28 – Should you be handling your own accounting?
29:22 – How to properly express your appreciation to investors
33:04 – Is it a good idea to send out personalized letters to your investors?
34:36 – Does a professional attire help you when pitching a deal to investors?
37:02 – What is the #1 thing that has contributed to Salvatore's success
39:20 – Salvatore's conference gives you a chance to learn from experienced and successful investors
40:45 – Sal shares some great resources guaranteed to give you the competitive edge
41:34 – Schedule a call with Whitney now!
[spp-timestamp time="41:48″] – A Special Thanks to our sponsor, LifeBridge Capital
In this episode, you will learn
Ingenious Capital Raising Tips and Tricks
How to properly structure your communication with investors
Tools and Resources for Real Estate Education
Resources
Love the show? Subscribe, rate, review, and share!
Join the Real Estate
Syndication Show Community: