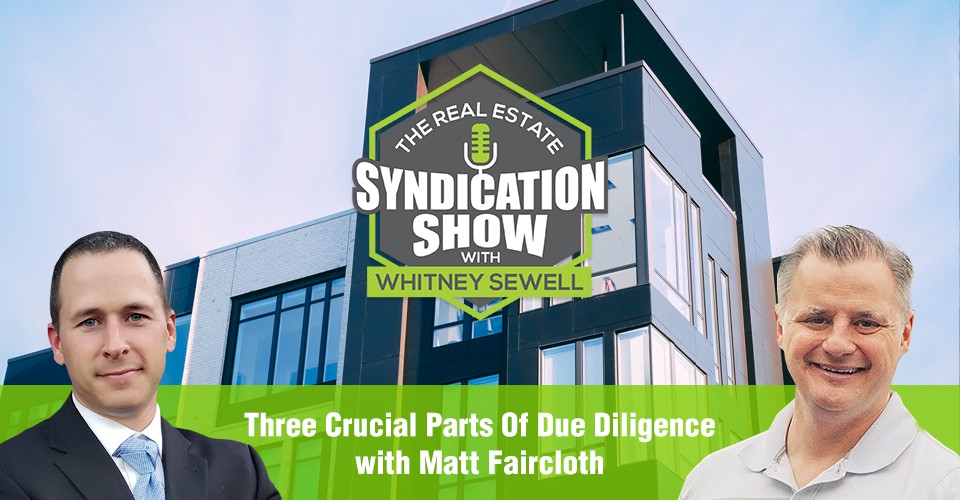 Proper due diligence is not optional when buying real estate. Matt Faircloth explains in detail three parts of due diligence that you cannot miss. He discusses how his team completes tasks such as the financial audits, what to look for inside each unit, and knowing when to re-trade. The entire due diligence process can be complicated, but with Matt's advice, you can trust yourself to successfully help yourself and your investors. Improve your due diligence process by listening to this episode with Matt Faircloth and Whitney Sewell.
Our Gracious Sponsor:
Are you wanting to learn how to gain financial freedom through having your own syndication business? Text LEARN to 474747 to begin to learn from one of the best in the industry, Vinney Chopra. Vinney came to the US with only $7 in his pocket, and now controls hundreds of millions of dollars of real estate he has acquired through multifamily syndication. He is now personally coaching others to do the same. Text LEARN to 474747 to begin your journey to starting your own syndication business! Vinneychopra.com

Watch the episode here:
Listen to the podcast here:
On today's podcast we are fortunate to be having a conversation with Matt Faircloth who is busy making a significant impact on the industry and who encourages community and collaboration by sharing his expertise with upcoming investors. Matt gives us an overview of how he got into the real estate investing space and shares how he and his wife slowly started scaling to bigger properties. He speaks at length about the crucial role of doing due diligence and outlines the three main aspects it involves, what its purpose is and when revaluation or re-trading might be appropriate. Matt also talks about the different audits that are required and gives us some very practical guidelines for doing physical inspections, including counting pets, shoes and mattresses and finding the right roof and HVAC vendors. He wraps up the conversation by sharing what type of properties they are interested in at the moment, what he attributes his success to and what he likes to do to give back. For all of this and more, be sure to join us! 
Key Points from This Episode:
Starting off with small real estate duplexes and singles and slowly scaling to larger properties.

Why due diligence is necessary and how it changes as you get into larger multifamily units.

When it might be advisable to reevaluate or re-trade the property.

The games that some buyers play in the due diligence process and why it's a bad idea.

A checklist for the process that Matt uses and the documentation they ask for.

The importance of auditing the seller's bills to see what their real expenses are.

Paying attention to clues and asking questions that could uncover major problems.

Three things done during a due diligence and why it is important to validate the leases.

The estimated cost incurred for using property management companies for the audits.

The physical inspection and being attentive to opportunities and cautions.

Why you want to count shoes, mattresses and pets when inspecting a property.

The additional people that could be hired to assist with the inspection.

How property managers collaborate and view each other as being on the same team.

What the hardest part of the syndication journey has been and Matt's best advice to others.

The greatest contributors to his success and what he does to give back.
The purpose of due diligence is really not to re-trade. It's not to get a better deal. Some people view it that way. It's not an opportunity to haggle. It's an opportunity to make sure that what you're buying is what you thought. —…
Click To Tweet
Links Mentioned in Today's Episode:
About Matt Faircloth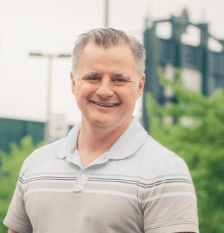 Matt, originally from Baltimore, Maryland, graduated from Virginia Tech with a degree in Engineering. After playing Robert Kiyosaki's Cash Flow Game, Matt decided to quit his safe and secure job working as an engineer in a Fortune 500 company to become a full-time real estate investor.
Under Matt's leadership, DeRosa has completed over 30 million in real estate transactions involving private capital including fix and flips, single-family home rentals, mixed-use buildings, apartment buildings, office buildings, and tax lien investments.  Matt has extensive expertise in connecting passive investors to lucrative investment opportunities through syndications, private loans, and joint ventures.
Matt Faircloth is an active contributor to BiggerPockets.com through Facebook Live, teaching webinars, and blogging.
Love the show? Subscribe, rate, review, and share!
Join the Real Estate Syndication Show Community: