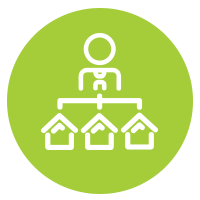 Our investment strategy centers on the acquisition, rebranding, and operation of undervalued multifamily properties. We research and uncover properties that are mismanaged, undermarketed, and/or minimally maintained, and then rebrand them through renovations, more efficient management, and timely marketing. The result for our investors is an asset that quickly (and at times, dramatically) increases in value, while also producing a predictable monthly income, as well as favorable tax advantages.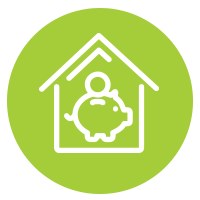 Life Bridge Capital offers our investment partners the opportunity to leverage shares of multifamily rental properties into a passive monthly income, without the associated day to day management of such. Our experienced investment team thoroughly evaluates properties to find assets that have vast potential but are currently devalued due to disengaged management. Once identified, we aggressively act on acquiring and improving the asset, with a proven property enhancement and management plan.
Ours is a fiduciary based approach, where investor return is of the utmost concern. This is the reason we unwaveringly follow our process, as it's battle-tested, and yields investors well-above-average returns. Our process is as follows:
1. Identification
We research and locate an undervalued multifamily asset.
2. Vetting Process
We evaluate valuation, equity, debt, potential risks, area demographics, population growth, and others.
3. Investment
Once vetted, our partner accredited investors are secured, and the property is purchased.
4. Enhance Value and Rebrand
Put simply, we fix what was broken, both physically and operationally. This involves renovations, new management, more efficient processes, and a transformation into a property that increases in value while being a more desirable place to live.
5. Investor Return
Our investors reap the fruits of a well-run, desirable property. Passive monthly income is the goal of many investors, and multifamily syndicated real estate investing with LifeBridge Capital is a way to that goal.
Can Anyone Invest With Life Bridge Capital?
You must be an accredited investor to invest in our multifamily opportunities. Click the link for Investopedia's definition. That said, if you aren't an accredited investor, you can still get on our mailing list.
Any investment carries risk. While we cannot guarantee anything, real estate (and in particular, multifamily real estate), has proven to be amongst the safest investments available. Remember: rent keeps rising. Our process of uncovering devalued assets and turning them into desirable ones is a proven one. And we also invest right alongside our investors.
I Read About You Helping Adoptions. Does This Affect My Return?
Not in the least. We enter into an investment contract with clear percentage expectations. Our charity work is taken from our own profits. Instead of buying a better car (et al), we help families who are adopting children, as we know firsthand how costly the process can be. However, we do hope this aspect of our business makes working with us a positive experience for you.