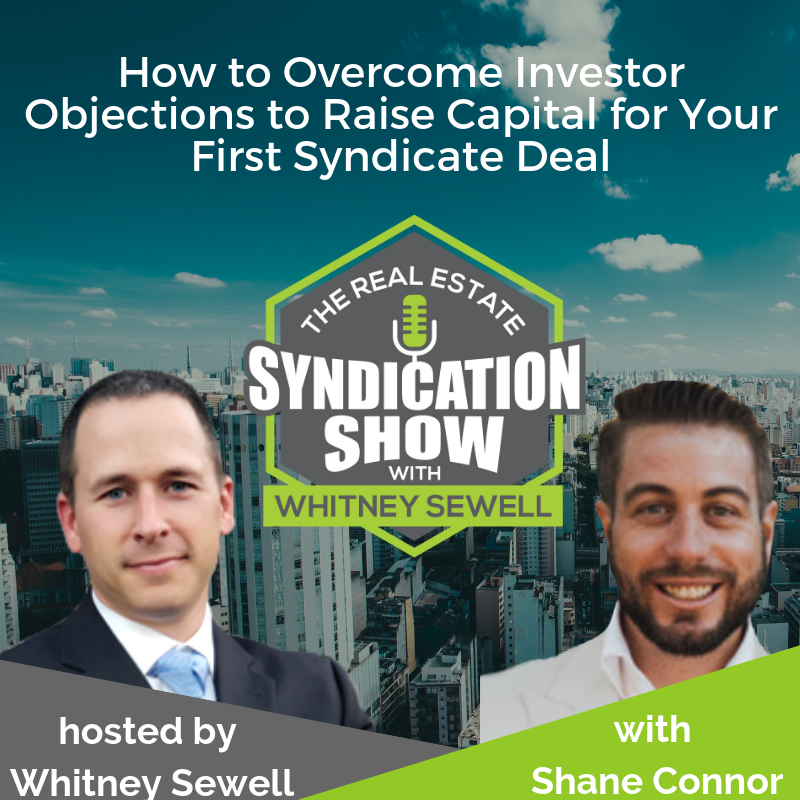 Listen to the podcast here:
Summary:
In this episode, Whitney interviews Shane Conner, founder, The Red Rock Capital Group. Shane reveals how inexperienced and first time syndicators can overcome investor objections to raise capital for their first deal. How did Shane conduct the initial research before investing in his first ever deal? What are some ways of meeting credit investors? And, how is Shane constantly improving his business? This is a great value-filled episode for new and experienced syndicators alike. Tune in now!
Time Stamped Show Notes:
00:27 – Whitney introduces Shane to listeners
01:05 – How did Shane transition to real estate syndication?
02:20 – Shane shares how he got in touch with a syndicator for his first deal
03:31 – How did Shane conduct the initial research before investing in his first syndication deal
04:39 – Reasons why Shane chose to go the syndication route
06:13 – How did Shane raise capital for his first deal?
07:55 – What are the requirements for a credit investor?
09:30 – Networking Tips and Tricks for connecting with investors
11:06 – What are some common questions that investors asks syndicators?
12:06 – Nuances of the securities regulation under 506 that you should be aware of
13:36 – Shane shares his "Why"; what makes the syndication business so attractive to Shane?
15:12 – A recent mistake that Shane made in his business
16:41 – What is the #1 thing that Shane is doing to improve his business?
18:11– The syndication community is a close knit one with everyone extremely willing to help one another
20:18 – How to find new investors and raise new capital
[spp-timestamp time="22:00″] – Shane shares his contact information
[spp-timestamp time="22:41″] – A special thanks to our sponsor, Life Bridge Capital
In this episode, you will learn:
How to conduct research and raise capital for your FIRST syndication deal
Tips and Tricks for networking with potential investors
Reasons why syndication remains the preferred investment
Resources
Love the show? Subscribe, rate, review, and share!
Join the Real Estate
Syndication Show Community: