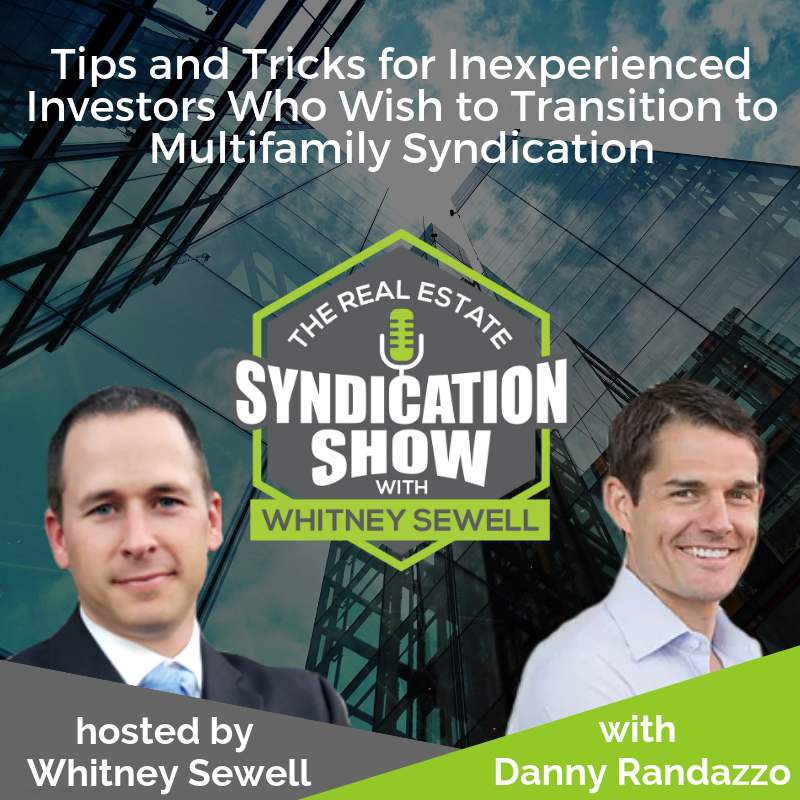 Listen to the podcast here:
Summary:
In this episode, Whitney interviews Danny Randazzo, Head of Acquisitions, Randazzo Capital. Danny invests in $2-$10 million commercial and multifamily investment opportunities that generate positive cash flow and value add opportunities. Danny shares how a solid educational foundation and goal setting helped him find success in real estate syndication. Can you syndicate a deal as a multimember LLC? How do you set goals that help you achieve clarity? Which are some promising asset classes and areas that syndicators can consider right now? Tune in for some great business advice!
Time Stamped Show Notes:
00:27 – Whitney introduces Danny to listeners
01:10 – How did Danny transition to the syndication business? Learn how Danny sold everything he had and moved across the country to get his business going
05:24 – Resources that gave Danny the confidence to venture into multifamily syndication
07:19 – Should you get your wife on board to help you out with your syndication business?
09:11 – How did Danny find his first deal?
10:55 – Danny shares how he analyzed his first deal
12:48 – Why did Danny opt for a multimember LLC for his first syndication deal? Learn why Danny had no need to opt for SEC filings
15:16 – Which asset classes and areas is Danny targeting for his future investments?
16:57 – How do syndicators deal with investors who wish to exit prematurely?
19:02 – Setting goals will help you prepare your business plan to achieve more clarity
20:32 – Reasons why Danny is preferring commercial property over single family homes
22:21 – What is the #1 thing that has contributed to Danny's success?
22:47 – Danny reminds listeners that real estate involved is hard work
23:48 – Which asset classes and target areas is Danny currently considering right now?
24:57 – Danny shares his contact information
[spp-timestamp time="25:16″]– A special thanks to our sponsor, Life Bridge Capital
In this episode, you will learn:
How to raise capital from investors who are willing to back you to the hilt
The ART of structuring the best possible funding arrangement in real estate syndication
The importance of building a good track record
Resources
Love the show? Subscribe, rate, review, and share!
Join the Real Estate
Syndication Show Community: