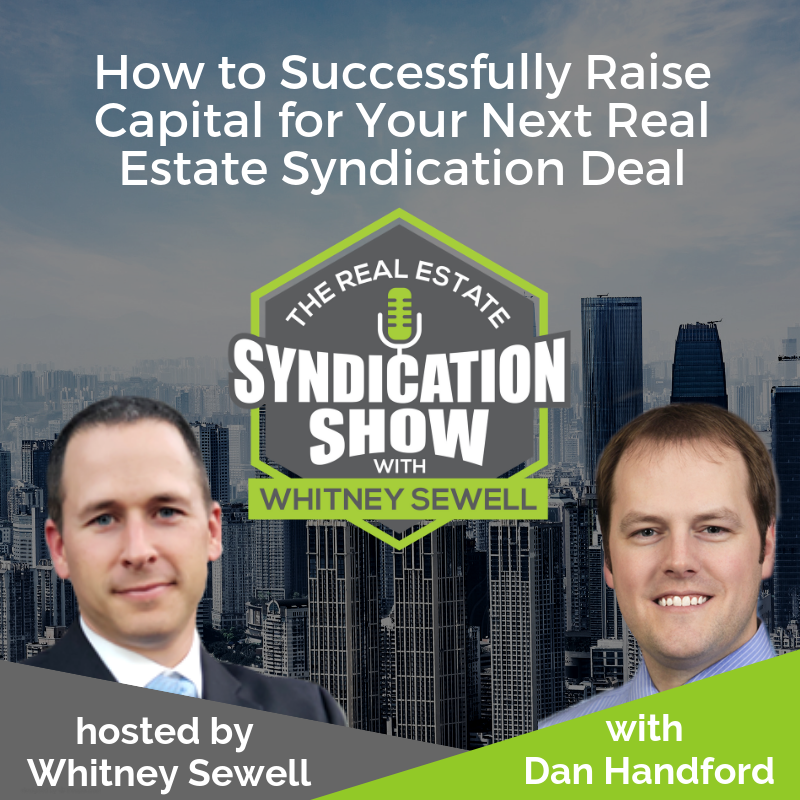 Listen to the podcast here:
Summary:
In this episode, Whitney interviews Dan Handford, Founder, Handford Capital and host of the Tough Decisions for Entrepreneurs podcast. Dan reveals some great Tips on how to successfully raise capital for a syndication project. We delve into the benefits of cost segregation, and how this accelerated depreciation can help drive down costs for large real estate projects. What is a non-recourse loan? And, what is the best way to network with HNI's and get them to invest with you? This episode is loaded with some great substance for new and established players alike. Tune in now!
Time Stamped Show Notes:
00:24 –  Whitney introduces Dan to listeners
00:53 –   Dan's background and why he transitioned into real estate syndication
01:44 –   Learn how you can real estate depreciation cost segregation more benefit in larger properties
02:41 –   Reasons why Dan prefers real estate syndication over other alternatives
03:20 –   What is cost segregation?
04:23 –   What is the probability of a correction in the real estate market? Dan explains how people might end up buying less and renting more
05:50 –   Dan explains the concept of a non-recourse loan
08:02 –   How to network and raise capital from HNI's for your syndication business
10:29 –   Will meetups help you find passive investors for your syndication business?
11:08 –   Dan prefers attending networking events at private clubs
13:34 –   How can inexperienced syndicators raise capital?
14:59 –   Dan avoids hard selling to small investors who cannot invest for the long term
16:39 –   The importance of establishing a good mentor-mentee relationship
19:14 –   What is the biggest reason why real estate syndicators fail
20:50 –   What is the biggest challenge co-sponsoring and partnering?
22:39 –   Access this awesome webinar that explains how they look at a deal
25:11 –   What is the #1 thing that you can do to improve your real estate syndication business?
25:53 –   Dan shares his contact information
26:40 –  A special thanks to our sponsor, Life Bridge Capital
In this episode, you will learn:
How cost segregation can help you save money on larger real estate deals
The ART of networking and raising money from HNI's
The importance of developing a good mentor-mentee relationship
Resources
Love the show? Subscribe, rate, review, and share!
Join the Real Estate
Syndication Show Community: