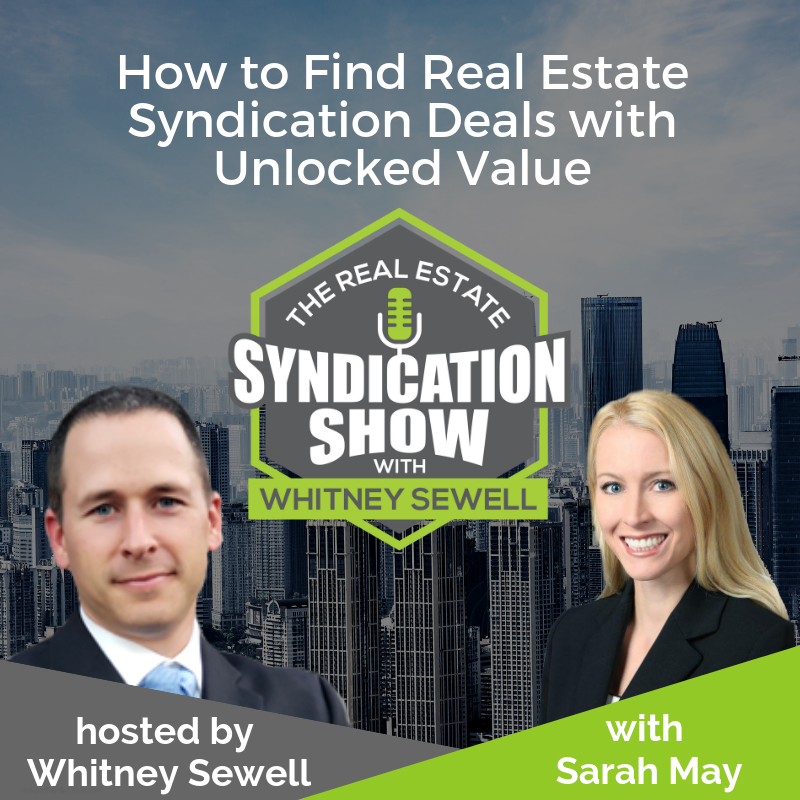 Listen to the podcast here:
Summary:
In this episode, Whitney interviews Sarah May, Managing Partner, Regency Investment Group. Sarah reveals some great Tips and Tricks that has allowed her group to SCALE up to own 1,000 doors in an extremely short period of time. Sarah, an aerospace engineer left her rewarding career when she saw a chance to build up a steady stream of passive income from the syndication business. How do you scout out properties with unlocked value? And, what are some ways to bring about great value add? This episode is peppered with some great wisdom. Tune in now!
Time Stamped Show Notes:
00:27 –  Whitney introduces Sarah to listeners
01:49 –  Sarah states her reason for transitioning from the aerospace industry to real estate syndication
03:06 – Why did Sarah opt for real estate syndication instead of fixing and flipping properties?
04:03 – What sort of properties does Sarah prefer to invest in?
04:48 –  How to drive greater value addition from your real estate properties
06:13 –  Brief overview of the last deal that Sarah syndicated
07:42 – What is the likelihood of coming across a deal where the owner is charging less than market rent?
08:43 – What made Sarah leave a rewarding career to don the syndicator hat?
10:25 –  Importance of building up a great team
10:56 –  Networking nuances that every syndicator should be aware of
12:36 –  Underwriting Tips for syndicators that will help you crack the right deal
13:17 – What is the #1 thing that a syndicator can do to improve his business?
14:06 –  Sarah's shares her methodology for finding deals
15:11 – What is the most common mistake that syndicators make while analyzing a deal?
16:26 –  Sarah shares her contact information
[spp-timestamp time="16:44″] –  Review and subscribe to the Real Estate Syndication Podcast
[spp-timestamp time="16:53″] – A special thanks to our sponsor, Life Bridge Capital
In this episode, you will learn:
Why real estate syndication is better than fix and flip
Networking Tips and Tricks for real estate syndicators
How to underwrite a great syndication deal
Resources
Love the show? Subscribe, rate, review, and share!
Join the Real Estate
Syndication Show Community: