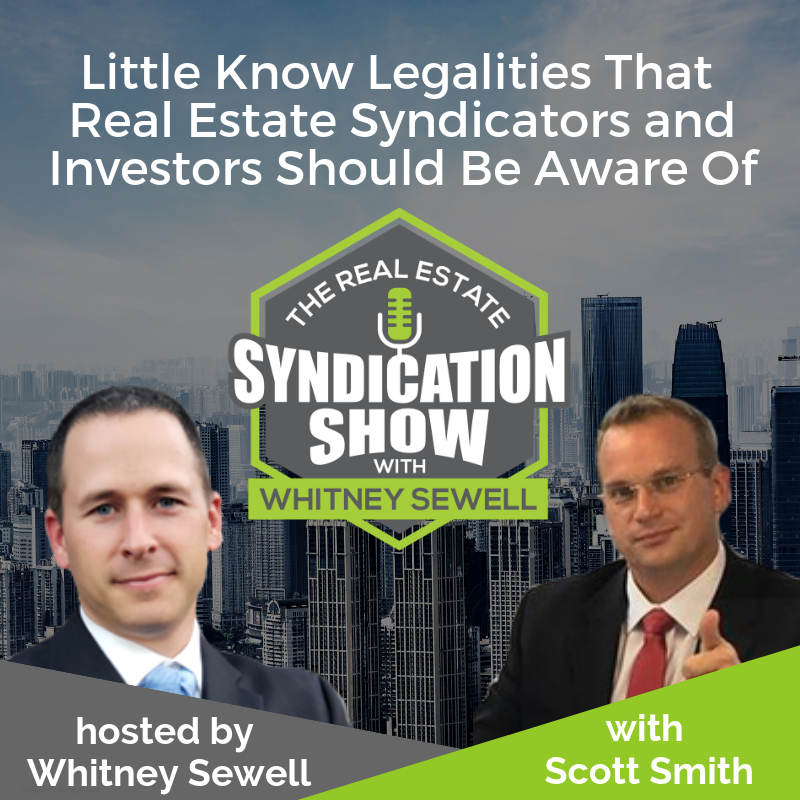 Listen to the podcast here:
Summary:
In this episode, Whitney interviews Scott Smith, an attorney with Royal Legal Solutions. Scott specializes in protecting your real estate assets. Whether you are a passive investor or a real estate sponsor, Scott has some great advice that will surely help you in your business. What is the best legal structure for a syndication business, and why? Which hacks can a syndicator employ to limit his liabilities? Scott also has some great advice for inexperienced investors who end up losing their hard earned money with unethical sponsors. This is an information packed show that you do not want to miss. Tune in now!
Time Stamped Show Notes:
00:32 –  Whitney introduces Scott to listeners
01:45 – How did Scott transition into real estate investing?
03:03 – What kind of services is Scott's company providing that can be of great benefit to real estate syndicators?
03:30 –  How to use the right company structure in real estate syndication
04:25 – What is a Series LLC, and what is the advantage of this structure?
05:44 –  Can you house your company as a Series LLC irrespective of whether you are dealing in single family or multifamily homes?
07:00 –  Learn how a syndicator can limit his liabilities by creating a land trust asset
07:39 –  Discussing the need to separate your assets from liabilities
09:08 –  Expert Tips for hiring professionals who can specifically help you with your real estate syndication
11:35 –  Scott shares how he has built up a highly qualified staff
12:59 – What is the #1 thing that has contributed to Scott's success? Scott shares how he strives for sharing knowledge in order to provide real value
14:56 –  Biggest reason why syndicators fail
16:51 –  Scott cautions investors against sponsors who abuse their powers
19:28 – When is the right time to contact Scott in order to get legal advice?
21:02 – What is the number 1 thing that you can do right now to improve your syndication business?
22:50 –  Scott shares a big mistake that he made on a syndication project
24:08 –  Scott has an unconventional way of picking out partners
26:39 –  Networking is a painful but critical part of syndication that cannot be done away with
25:50 –  Scott shares his contact information
[spp-timestamp time="27:26″] – Review and subscribe to the Real Estate Syndication Podcast
[spp-timestamp time="27:35″] – A special thanks to our sponsor, Life Bridge Capital
In this episode, you will learn:
The advantages of structuring your syndication business as a Series LLC
How passive investors can avoid investing their hard earned money with unethical real estate sponsors
How real estate syndicators and investors can build up a well-trained team of people
Resources
Love the show? Subscribe, rate, review, and share!
Join the Real Estate
Syndication Show Community: