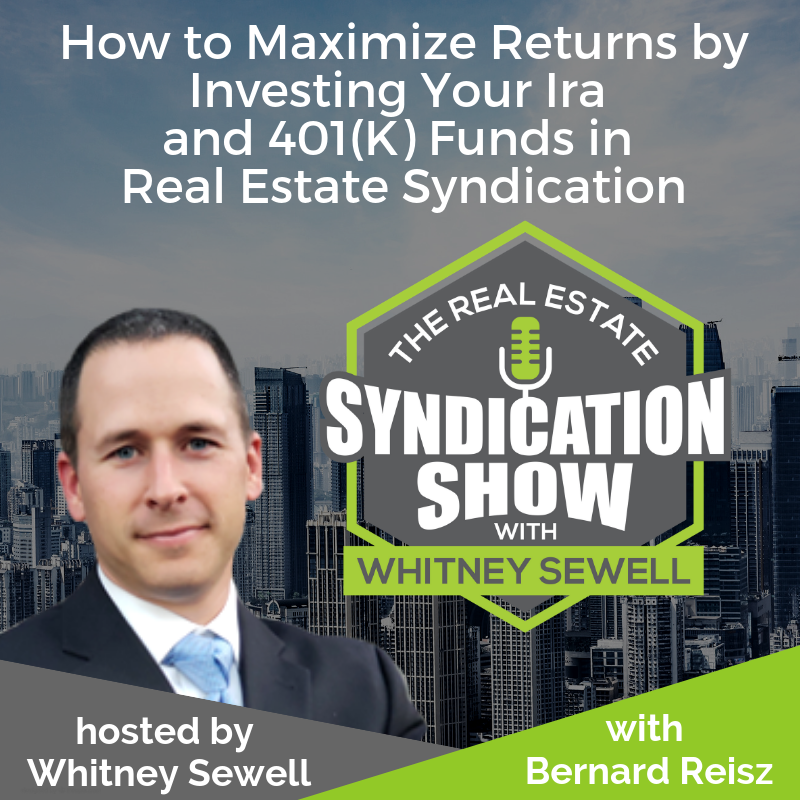 Listen to the podcast here:
Summary:
In this episode, Whitney interviews Bernard Reisz, Principal, ReSure Financial Advisors LLC. Bernard reveals how you can make real estate investments from your IRA and 401 (k) – and why this is an excellent choice to traditional investment alternatives. You will learn about the basics of IRA and 401(k) from Bernard, an experienced CPA. We reveal how the cumulative effect of portfolio diversification, tax benefits and compounding can help you maximize your 401 (k) returns. Tune in to discover some little known and extremely important investing nuances that can help you generate greater income and lead a comfortable life.
Time Stamped Show Notes:
00:49 –  Bernard shares his background information
01:01 – Can you maximize returns from your IRA and 401(K) by investing in real estate?
01:25 – Are you better off investing in real estate compared to stocks?
02:15 – What is the difference between IRA and 401(K)? Understanding the basics
03:08 – Are there any particular advantages of investing in real estate if you have a solo 401(K)?
04:31 –  Getting a sense of the huge opportunity that syndicators have when they tap into IRA funds
05:15 – Unlike stock market, can you influence the outcome of your investment in real estate?
06:30 –  Investing in stock market is a great portfolio diversification tool and hedge against volatility in the stock market
07:12 – How does your age affect the investment decisions that you make from your IRA and 401(k)?
08:11 –  Learn how investing in tax advantage vehicles can help you generate maximized returns
09:15 –  Understanding how compounding can help maximize returns
10:37 – How do investor's react when they discover they can invest in real estate through their IRA or 401(k)?
11:57 –  Some of the biggest mistakes that investors make when investing in real estate through IRA
14:04 – Is there any particular reason why brokerages allow you to set up free IRA's?
15:16 –  Understanding why you need to pay a custodian fee for investing in real estate
17:01 – What is checkbook control IRA? Learn how this innovative mechanism can help do away with custodian fee
18:43 – Do you have the option of being an active investor when you invest in real estate through your IRA?
[spp-timestamp time="21:59″] – Review and subscribe to the Real Estate Syndication Podcast
[spp-timestamp time="22:05″] – A special thanks to our sponsor, Life Bridge Capital
In this episode, you will learn:
How compounding can help maximize returns from tax advantage vehicles
Why real estate investments can prove to be an effective hedge and an excellent way of diversifying your portfolio
Workflow and step by step instructions for making real estate investments from your IRA and 401 (k)
Resources
Love the show? Subscribe, rate, review, and share!
Join the Real Estate
Syndication Show Community: