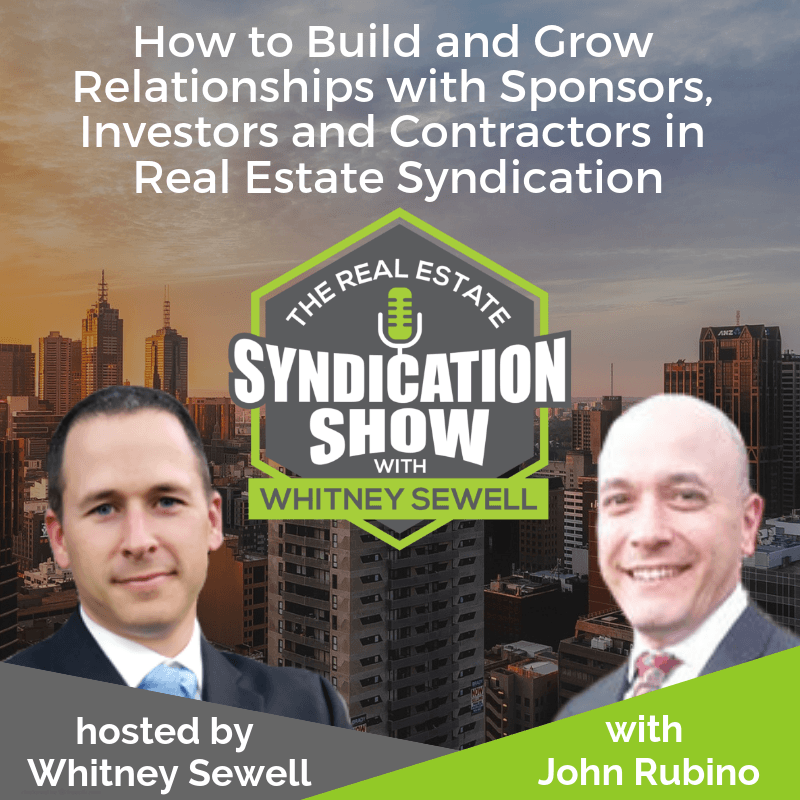 Listen to the podcast here:
Summary:
In this episode, Whitney interviews John Rubino, Chief Operating Officer, Founder and Managing Partner at JID Investments LLC. John reveals some great ways of building and sustaining solid business relationships with sponsors, investors and contactors. Does traditional marketing generate better results compared to digital marketing? How do you vet a real estate sponsor before getting him on board? Watch out for the great resources that John shares in this podcast. This show is loaded with information guaranteed to give you the competitive edge. Tune in now!
Time Stamped Show Notes:
00:27 – Whitney introduces John to listeners
01:10 – How did John, a Navy veteran transition to real estate syndication?
03:55 – Learn how John's business has grown by leaps and bounds over the years; what his current focus?
04:41 – What kind of returns can you expect if you invest with John?
06:20 – What is John's role within his company?
07:00 – How to maintain and grow relationships with sponsors, investors and contractors
08:07 – Should syndicators go to meetups groups for networking with industry peers?
08:48 – Conducting due diligence to vet a real estate sponsor is critical
09:41 – Does traditional marketing work better compared to digital marketing?
10:18 – Is it relatively easy to raise cash for syndication projects?
10:45 – John shares how he places investor interests above everything else
11:28 – Is it important for developers and sponsors to be substantially invested in a project?
11:48 – Learn about John's policy to refrain from  guaranteeing bank notes in order to limit liability
12:42 – Location and demographics is key for selecting a good deal; Amazon's HQ coming to Virginia is a huge plus for real estate
13:51 – Tips and Tricks for present yourself to investors in order to overcome objections
14:44 – Planning is key for getting your syndication business rolling
16:29 – How to zero in on good networking groups that can help your business gain traction
17:31 – Some great networking websites for real estate syndicators
18:01 – John shares his Top 3 books
20:40 – John's advice for folks who are just starting out in real estate syndication
21:50 – What is the #1 thing that has contributed to John's success?
23:46 – A reliable track record is critical for  building a long term syndication business
24:32 – John shares his contact information
[spp-timestamp time="26:01″] – A special thanks to our sponsor, Life Bridge Capital
In this episode, you will learn:
How to maintain and grow relationships with sponsors, investors and contractors
The importance of location and demographics in real estate syndication
Networking Tools and Resources for real estate syndicators
Resources
Love the show? Subscribe, rate, review, and share!
Join the Real Estate
Syndication Show Community: