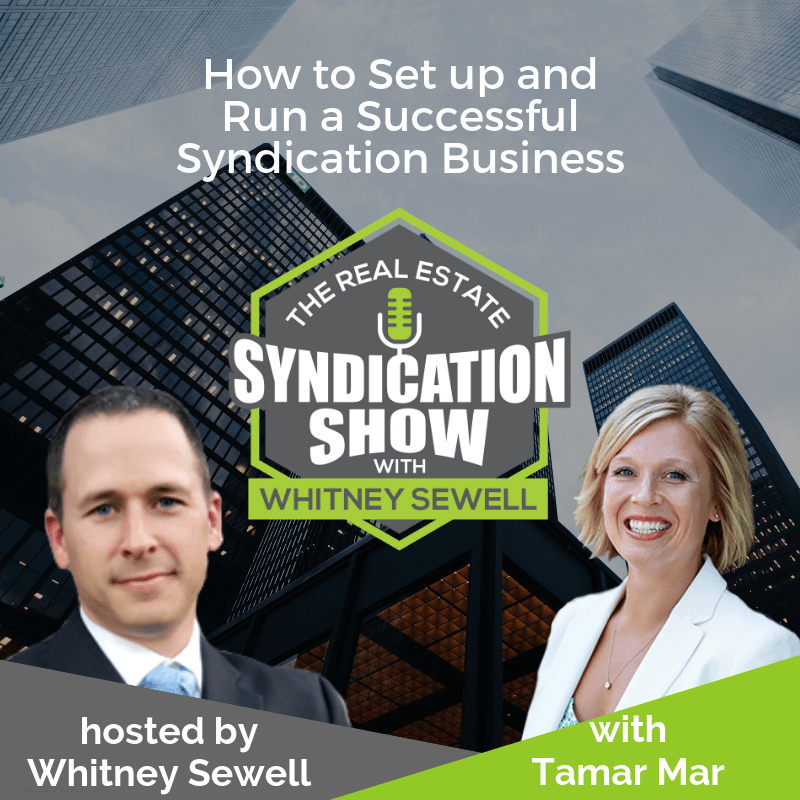 Listen to the podcast here:
Summary:
In this episode, Whitney interviews Tamar Mar, Principal and Managing Director, Marota Group. Tamar is a real estate entrepreneur and investor. How did Tamar venture into the syndication space with little prior experience? What are some ways inexperienced syndicators can find and connect with influencers in the syndication space? You will also learn some great business strategies for acquiring a syndicated property. This show is filled with value that will surely help you and your business. Tune in now!
Our Gracious Sponsors:
Make sure to be at Joe Fairless's Best Ever Conference, February 22-23, 2019. Use code: #WHITNEY for 10% OFF!!!
Phoenix Syndication Workshop 2019 is a premier 2-day educational and networking event hosted by noted real estate investors Ben Leybovich and Sam Grooms January 26 – 27, 2019.
Multifamily Investor Nation Investor Summit January 17-19, 2019 – 3 full days of content from over 50 expert speakers! Use code: WHITNEY for $100 OFF the FULL ACCESS PASS tickets!
Time Stamped Show Notes:
00:00 – Be a part of Joe's, Best Ever Conference in Denver, this February
01:15 – Whitney introduces Tamar to listeners
02:00 – How did Tamar transition to real estate investing?
04:23 – Tamar shares how she was able to successfully venture into multifamily syndication in spite of little prior experience
06:11 – Resources that Tamara used to widen her knowledge base
09:15– Tips and Tricks for having a conversation with investors
10:37 – How establishing yourself as a thought leader can help you immensely in the syndication business
12:01 – Noted investors, Ben Leybovich and Sam Grooms are organizing a 2 day workshop in January in Phoenix, Arizona
13:20 – Learn about Tamar's 15 unit complex, $800,000 deal; what lessons did Tamar learn from this first deal?
16:25 – Tamar acquires her first bridge loan
17:07 – Strategies that Tamar has employed while acquiring a 56 unit government contract in Ohio
19:22 – Tamara's advice for inexperienced investors who wish to transition to the syndication business
21:34 – What is the most challenging aspect of the syndication business?
22:57 – Top reason why syndicators fail
23:56 – What is the #1 thing that has contributed to Tamar's success?
25:07 – Is raising capital difficult for Tamar at this stage in her career?
26:21 – What steps is Tamar taking to improve her business?
27:47 – Tamar shares her contact information
[spp-timestamp time="28:23″] – Share, Review and Subscribe to the Real Estate Syndication Show
[spp-timestamp time="28:36″] – A Special Thanks to our sponsor, Life Bridge Capital
In this episode, you will learn:
Resources for inexperienced syndicators who wish to widen their knowledge base
How to find and network with influencers in the syndication space
Business strategies for acquiring your first syndicated property
Resources
Love the show? Subscribe, rate, review, and share!
Join the Real Estate
Syndication Show Community: