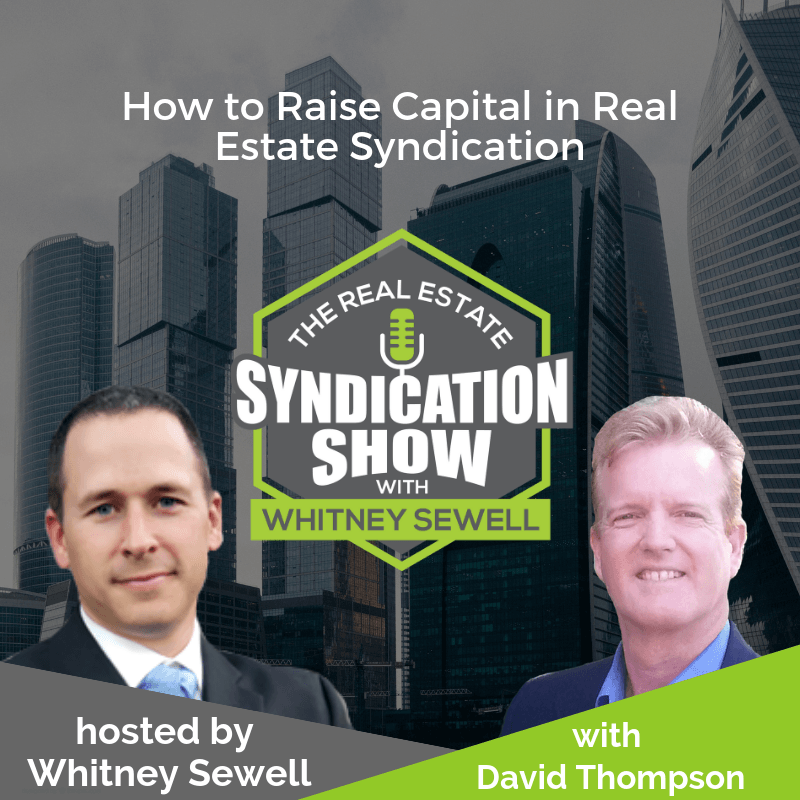 Listen to the podcast here:
Summary:
David Thompson, CEO/Founder, Thompson Investing reveals some great TIPS that will help syndicators in their capital raising efforts.
Is partnering with an experienced syndicator the best way to learn the ropes of the business? What are some effective ways of dealing with investor's queries and assuaging their concerns? You will also learn the importance of being forthright with your investors about the many risks involved in real estate investing. Tune in for some great insights!
Our Gracious Sponsors:
Make sure to be at Joe Fairless's Best Ever Conference, February 22-23, 2019. Use code: #WHITNEY for 10% OFF!!!
Time Stamped Show Notes:
00:29 – Whitney introduces David to listeners
01:25 – How did David transition to real estate investing from the corporate world?
03:04 – David attempts to learn the ropes of the business by helping out with an $8 million raise for  a 320 unit apartment
03:58 – Asset classes that investors can consider right now
06:00 – How partnering with an experienced syndicator can help you gain the necessary traction
07:24 – David ends up working in an insurance company right after college
10:20 – What are some common mistakes that real estate investors tend to make?
10:46 – Does portraying yourself as a thought leader in the real estate space help you and your business?
14:12 – Is apartments the best way to foray into real estate investing?
15:54 – Apartments vs. single family homes – which is a safer investment?
[spp-timestamp time="17:20″] – Joe Fairless's Best Ever Conference is coming up in Denver this February
18:26 – How to deal with investor queries and assuage their concerns
21:27 – Importance of being clear and forthright about your fees
23:20 – Is real estate investing completely risk-free?
24:17 – How to find investors for your real estate investing business
28:23 – What has been the most challenging part of the syndication business for David?
32:25 – David reveals how using an investor portal has resulted in an improved customer experience
36:09 – David shares his contact information
37:07 – Schedule a call with Whitney now!
[spp-timestamp time="37:18″] – A Special Thanks to our sponsor, LifeBridge Capital
In this episode, you will learn
How to learn the ropes of the business from experienced syndicators
How to deal with investors and assuage their concerns
Analyzing the many risks in real estate investing
Resources
Love the show? Subscribe, rate, review, and share!
Join the Real Estate
Syndication Show Community: