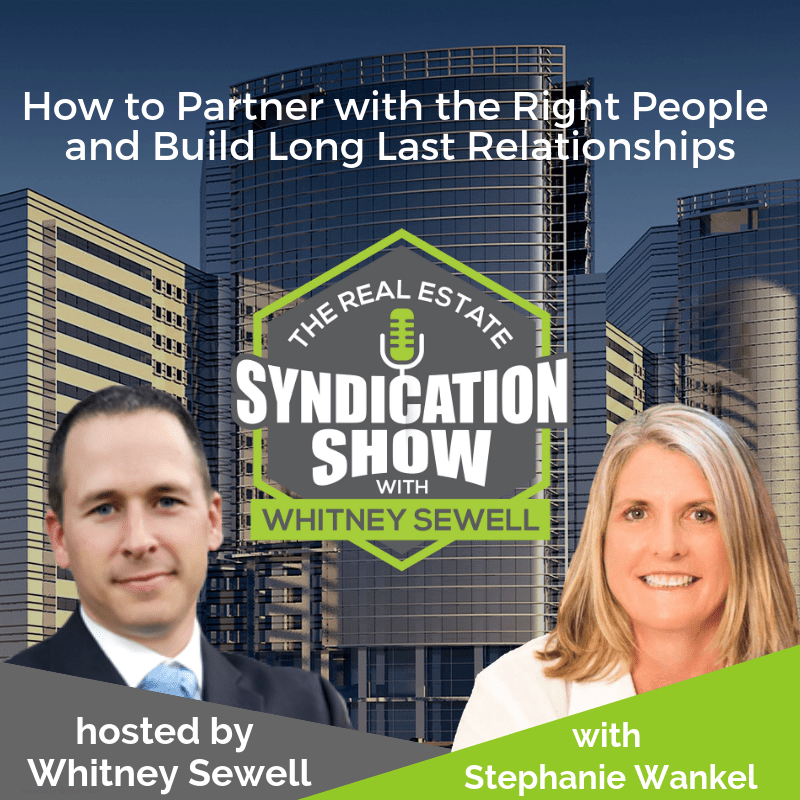 Listen to the podcast here:
Summary:
Stephanie Wankel, Founder, New Heights Investment Group reveals how you can build stable and long lasting investor – sponsor relationships in real estate syndication.
How can inexperienced investors learn the ropes of the syndication business? You will learn why starting off as a passive investor is a sensible step. Stephanie also shares how investors can find and vet a sponsor – so that they end up partnering with right and reliable people. Towards, the end of the show, you will also learn the importance of indoctrinating your investors by providing educational resources. Tune in now!
Time Stamped Show Notes:
00:29 – Whitney introduces Stephanie to listeners
01:30 – How did Stephanie transition to the real estate business?
04:00 – Stephanie shares how she educated herself and learned the ropes of the business
04:20 – Is it a good idea to start off as a passive investor?
05:33 – How to find a good mentor who can give traction to your career
07:23 – How time prioritizing can allow you to FOCUS on important activities that add the greatest value to your business
08:28 – Stephanie shares how she is helping investors find promising opportunities
10:23 – Tips and Tricks for finding investors and cultivating last lasting relationships
11:45 – Some effective ways of nurturing relationships with your investors
13:13 – How to vet a real estate sponsor
14:19 – A sponsor's skillset is critical for the success of a project
15:09 – Questions that you should ask your real estate sponsor before partnering with them
16:12 – Stephanie points out that educating new investors is an uphill task
17:55 – How does Stephanie plan to streamline the process of educating her investors?
18:50 – Stephanie shares her workflow for pushing out content quickly, and with less effort
19:41 – What is the single most important thing that has contributed to Stephanie's success?
20:26 – Stephanie's final parting advice for listeners
20:53 – Stephanie shares her contact information
21:02 – Schedule a call with Whitney now!
21:21 – A Special Thanks to our sponsor, LifeBridge Capital
In this episode, you will learn
How to LEARN the nuances of the syndication business
How to cultivate long-lasting and stable investor – sponsor relationships
The ART of accurately vetting a real estate sponsor
Resources
Love the show? Subscribe, rate, review, and share!
Join the Real Estate
Syndication Show Community: