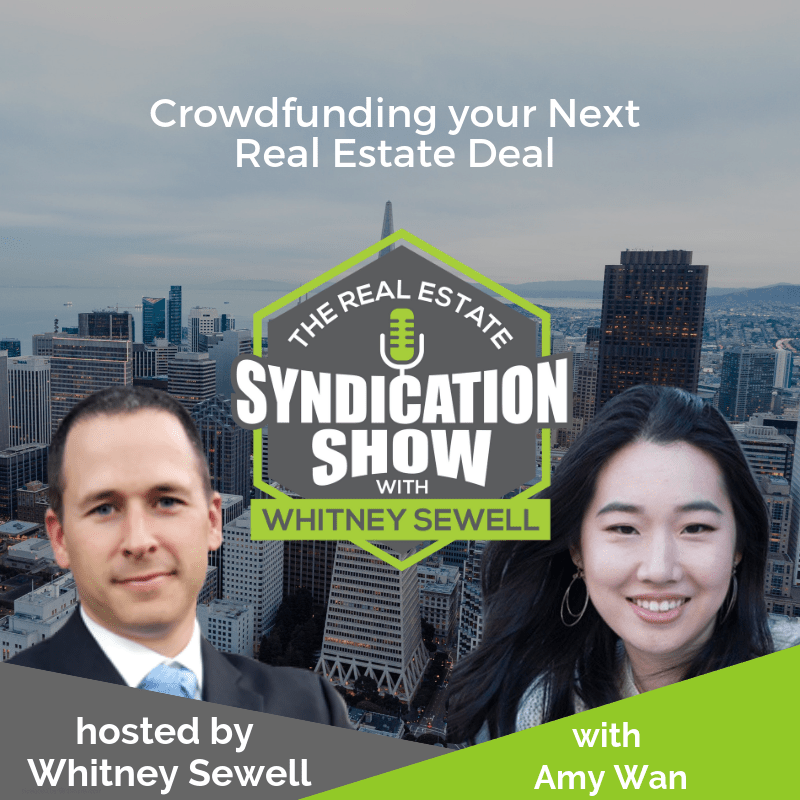 Listen to the podcast here:
Summary:
Amy Wan, founder & CEO, Bootstrap Legal  shares the pros & cons of crowdfunding. In this show, we share the complete workflow for crowdfunding a real estate deal.
This show starts off with Amy clearing some common misconceptions pertaining to crowdfunding. You will learn about the four different kinds of crowdfunding. Which option is best suited for real estate investing? Can real estate investors without a track record raise large amounts of capital through crowdfunding? What are pros & cons for raising capital under 506 (b) and 506 (c)?  You will also learn about the various SEC restrictions that you need to be aware of if you are planning on opting for the crowdfunding model.
This show will be really interesting for those who are thinking of using crowdfunding for their next real estate deal.
Tune in for some excellent insights!
Our Gracious Sponsors:
Are you wanting to learn how to gain financial freedom through having your own syndication business?  Text LEARN to 474747 to begin to learn from one of the best in the industry, Vinney Chopra. Vinney came to the US with only $7 in his pocket, and now controls hundreds of millions of dollars of real estate he has acquired through multifamily syndication.  He is now personally coaching others to do the same. Text LEARN to 474747 to begin your journey to starting your own syndication business! Vinneychopra.com
Time Stamped Show Notes:
00:29 – Whitney introduces Amy to listeners
01:25 – Amy clears some common misconceptions pertaining to crowdfunding
03:14 – Amy elaborates on the four different types of crowdfunding
04:07 – Discussing equity and debt based crowdfunding for real estate
06:33 – Should a new investor without a track record raise capital via Rule 506 (c) of Regulation D?
07:52 – How do real estate investors raising money via crowdfunding assuage investor concerns?
08:31 – Capital raising tips for inexperienced real estate investors
10:23 – Expert Tips for leveraging accredited crowdfunding more effectively
12:05 – Marketing strategy for real estate investors raising capital under Rule 506 (b) and 506 (c)
13:13 – Does SEC restrict advertising completely if you are raising capital under Rule 506 (b) of Regulation D?
14:47 – Text LEARN to 474747 to learn the nuances of multifamily syndication from Vinney Chopra
17:05 – What is the benefit of raising money under 506 (c)?
19:00 – Does the SEC permit investors to raise money for two deals from a single investor?
19:58 – How to raise large amounts of capital from non-accredited investors
21:13 – Can investors earn good returns from crowdfunded deals?
24:50 – Can you fund a syndication project through crowdfunding?
25:17 – Amy shares her contact information
25:38 – Schedule a call with Whitney now!
25:40 – Join our Facebook group to connect with like-minded individuals and real estate experts like Amy
25:49 – A Special Thanks to our sponsor, Life Bridge Capital
In this episode, you will learn
Understanding the different types of crowdfunding
SEC restrictions for raising capital under Regulation 506 (c) of Regulation D
Advertising strategy for raising capital without flouting any SEC exemptions
Resources