The Life Bridge Capital team is excited to present Fund 1, an opportunity to invest in a diversified group set of assets in the multifamily space.
The two core assets types will be:
Traditional value-add deals across the Rockies, with a special emphasis on Boise, Salt Lake City, and Colorado Springs. These deals will drive consistent cash flow and a high degree of predictability.
Development deals in the Boise, Idaho Metropolitan Statistical Area. This MSA is in the top 5 of almost any growth measure, population, job growth, single family home values, and rental rates. Existing product is extremely difficult to come by, but land is still relatively affordable. This creates an exciting opportunity to pursue building Class A assets and take advantage of these economic trends.
Combining these two types of multifamily will lower the overall risk profile, while also driving returns up as the development projects mature. Your funds will be spread across multiple properties, which will diversify your portfolio while still mitigating your risk.
Why We Like This Opportunity
Over the past 9 months we have seen a significant amount of competition re-engage in the multifamily marketplace, making the value-add space a challenging place to source deals in the markets we focus on. Simultaneously, the Life Bridge Capital team has been executing on the business plans for the various projects and identifying key areas of growth internally. At Life Bridge Capital we are always evaluating our deal structures with an eye on optimizing for investor performance, which includes winning deals, paying out above-average returns, and mitigating risk. We believe a fund is the best step forward for you, our limited partners, for the above reasons.
Minimum Investment: $100,000
Market Highlights
Life Bridge Capital Fund 1 will focus on projects located in the Rocky Mountain area, namely in Boise, Salt Lake City, and Colorado Springs. These markets have shown extreme growth over the last few decades, and are poised for continued growth over the next 5-10 years.
Boise:
In the past decade, job growth in the Boise metro area has increased by more than 18%. In the past year alone, it's jumped up more than 6% – during a pandemic.
Over 50,000 new residents are projected through 2040, making Boise one of the fastest growing cities in the nation.
Salt Lake City:
Salt Lake City has the No. 1 job market in the country and is ranked 4th in the US among best places to find work. The current metro area population of Salt Lake City in 2021 is 1,180,000, a 0.94% increase from 2020
Unlike other metropolitan areas, Salt Lake City was able to avoid the multiple shutdowns that crippled many US cities. As a result, the city appears to have almost completely recovered from the COVID-related economic downturn.
Colorado Springs:
Colorado Springs is the second-largest city in Colorado and is in El Paso County. The city is home to over 738,000 people. The population has grown over 37% since 2000.
Colorado Springs just opened Weidner Field in May, an 8,000 seat soccer and event stadium that is driving significant development around the downtown core.
Returns Profile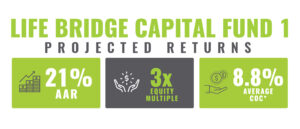 Life Bridge Capital has taken a very conservative approach to modeling the fund returns, taking into account future uncertainty in the marketplace.
The projected investor returns are:
21% Average Annual Return
8%+ Cash on Cash Return
3x Equity Multiple
7% Preferred Return
This is very similar to our past deals in the value add sector.
Available for Accredited Investors Only
This opportunity is a SEC Reg D 506(c) deal, which is only open to accredited investors at this time. There will be future opportunities open to sophisticated investors.
Investors in the Life Bridge Capital Fund 1 will be accepted on a first-funded basis, and the Fund can be closed at any time.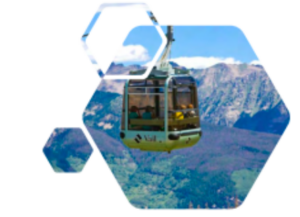 Vail Valley: Seed Deal
Life Bridge Capital is pleased to present The Vail Valley Portfolio ("The Portfolio"), a 139-unit multifamily portfolio comprised of three properties in Eagle County, CO. The properties are in the towns of Eagle and Gypsum, located within the Vail Valley, which boasts a young, affluent population with an average household income of nearly $120,000. All three properties are conveniently located along the I-70 corridor offering residents easy access to nearby Avon, Vail, Beaver Creek, Glenwood Springs, and Denver. This portfolio is being purchased from the developer and is a unique opportunity to acquire at scale in a very desirable mountain community.
Update — New Assets:
We are pleased to announce that we have identified two more assets for the LBC Fund! We have contracts on two multifamily complexes, located in Colorado Springs, CO. Both of these assets were previously owned by the same seller of one of our current properties, Stratus Apartment Homes. They are both in excellent condition with new parking lots, roofs, and windows. The unit interiors will be our focus, we plan to update all flooring, cabinets, bathrooms, and fixtures while removing some pony walls to open up the interiors. We are thrilled to land these two off market deals and anticipate closing in December.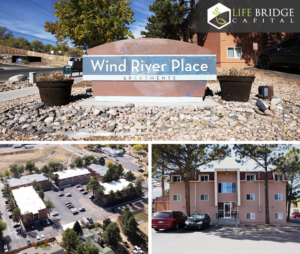 Wind River Place is a 120 unit multifamily complex, made up of 60 one bedroom units, and 60 two bedroom units. Built in 1973, this property boasts ample parking, a swimming pool, and laundry facilities.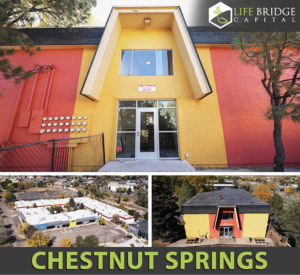 Chestnut Springs is a 92 unit multifamily complex, made up of 1 bedroom apartments in 4 separate buildings. This property has maintained a high occupancy averaging around 96%.