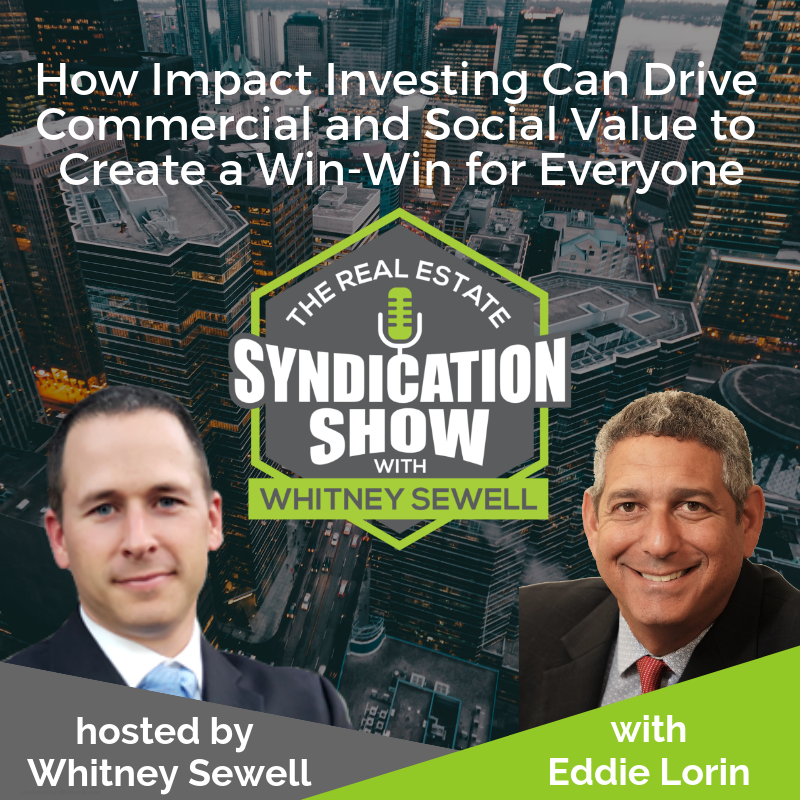 Listen to the podcast here:
Summary:
In this episode, Whitney interviews Eddie Lorin, founder, Impact Housing REIT and Strategic Realty Holdings. Eddie shares how investing in affordable housing can prove to be a great value proposition for real estate investors. Can you really benefit from investing in affordable housing for the homeless? What is the typical holding period for a real estate syndicator? Eddie also reveals how he has managed to build up a well-qualified and motivated team over the years. Tune in to this very special show.
Time Stamped Show Notes:
00:27 –  Whitney introduces Eddie to listeners
01:10 – How did Eddie transition to real estate syndication?
02:22 –  Benefit of real estate investing
03:13 –  Eddie's sole focus is value added affordable housing
03:48 – What is impact investing?
04:17 –  Learn how Eddie managed to procure tax abatement in exchange for providing shelter to the homeless
05:22 – How does Eddie scout our properties with hidden and unlocked value?
05:59 –  Upgrading amenities can help unlock value in a property
06:55 – How long does Eddie typically hold a property?
08:26 –  How can an inexperienced syndicator venture into the syndication business
10:37 –  The importance of collaborating with the right partner
11:57 – What is the #1 thing that has contributed to Eddie's success?
12:20 – Why do you most syndicators fail?
12:31 –  Common mistakes that syndicators make
12:51 –  How to build a great team and keep them motivated
14:01 –  Eddie shares his contact information
[spp-timestamp time="14:35″] – A special thanks to our sponsor, Life Bridge Capital
In this episode, you will learn:
Why impact investing makes great commercial sense
Factors that determine the length of your holding in real estate investing
The importance of collaborating with the right partners
Resources
Love the show? Subscribe, rate, review, and share!
Join the Real Estate
Syndication Show Community: