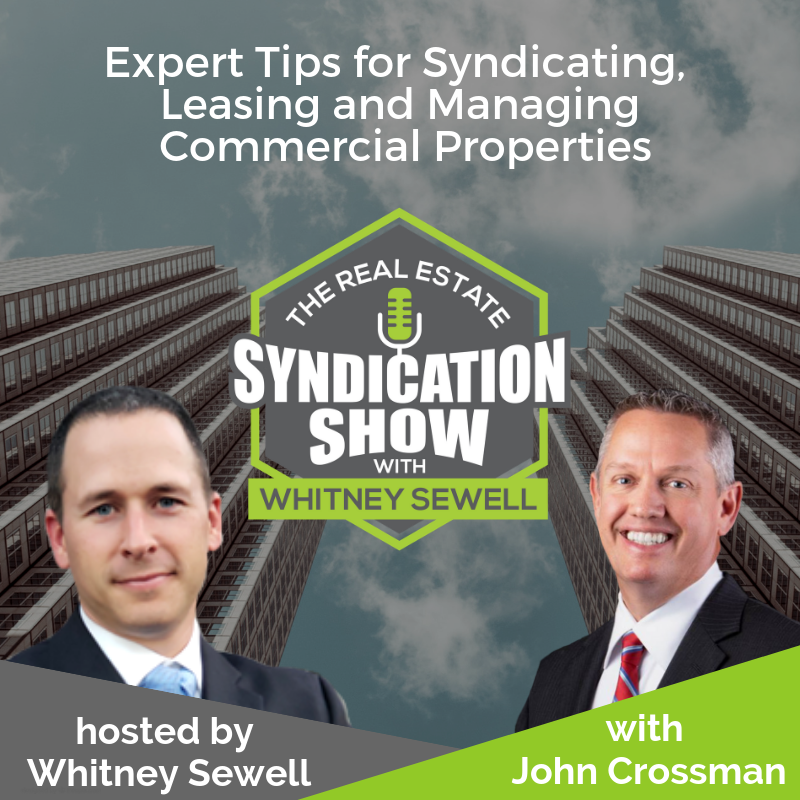 Summary:
In this episode, Whitney interviews John Crossman, CEO, Crossman & Company, one of the largest retail leasing, management, and investment sales firms in the Southeastern US, with over 28 million square feet under their management. John has some great tips that will help you syndicate, lease and manage commercial properties. Which factors should you consider before investing in retail? How do you vet and hire a top notch property management company? What are some effective ways of dealing with important but overly aggressive clients? Tune in and learn!
Time Stamped Show Notes:
00:28 – Whitney introduces John to listeners
00:51 – How did John transition to real estate investing?
01:44 – Leasing is the core focus of John's business
02:43 – Important to put in extensive research before investing in retail
03:50 – How retails FOLLOWS leading economic indicators like housing growth
05:12 – Factors to consider before investing in retail; we discuss bay depth, signage, prohibited uses and much more
07:01 – How to determine properties that you should AVOID investing in
08:40 – How to vet and hire a top notch property management company
10:46 – Questions that a syndicator should ask before hiring a property management company
11:46 – Are the challenges of investing in commercial property quite different from multifamily investing?
13:00 – How can John's company help you conduct your due diligence?
13:46 – Are there properties or clients that John prefers not to manage?
16:11 – John explains why an anchor tenant is critical for the success of a commercial property
17:16 – How to deal with important but aggressive clients who try to push you around
18:40 – The challenges of dealing with tenants from different nationalities, and how to overcome them
20:01 – John shares his contact information
20:36 – Reach out to John for any public speaking engagements
21:18 – Share, Review and Subscribe to our show. Your encouragement keeps us going
[spp-timestamp time="21:27″] – A special thanks to our sponsor, Life Bridge Capital
In this episode, you will learn:
Factors to consider before investing in the retail segment
How to vet and hire a top notch property management company
How to determine if a tenant is a good fit
Resources
Love the show? Subscribe, rate, review, and share!
Join the Real Estate
Syndication Show Community: