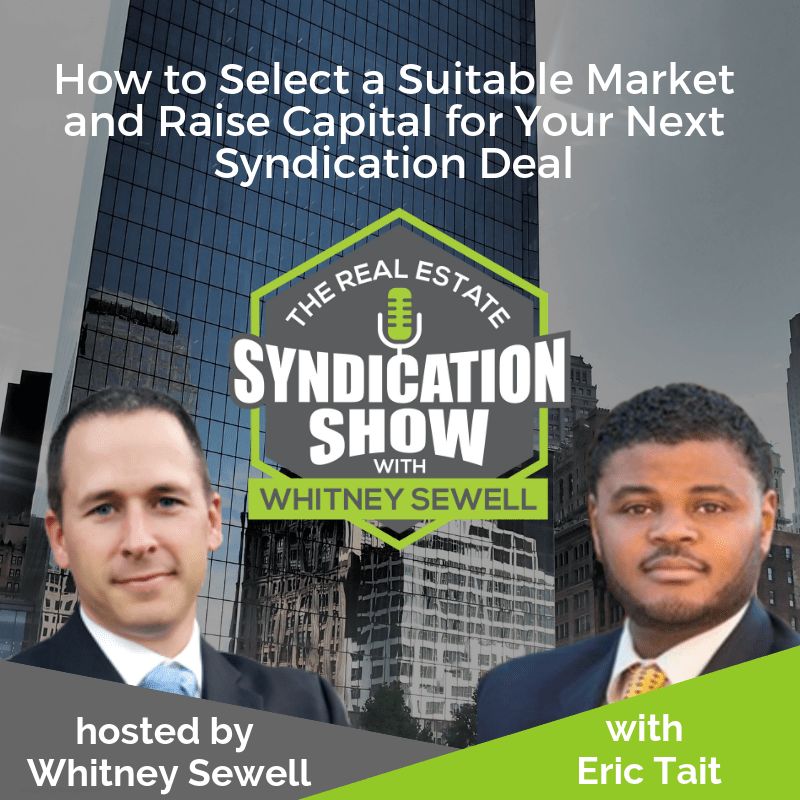 Listen to the podcast here:
Summary:
In this episode, Whitney interviews Eric Tait, founder, Vernonville Asset Management and President, Pinnacle Physician Management Organization. Eric reveals some little known business tips for market selection and fund raising. Should you invest in a market with good population growth but zero job growth? How can you convince HNI investors to come aboard as investors for your syndication project? We also discuss how inexperienced syndicators can gain the confidence necessary to operate as real estate sponsors on a major real estate deals. Tune in now for some great advice!
Time Stamped Show Notes:
00:28 – Whitney introduces Eric to listeners
01:08 – How did Eric transition to real estate investing?
03:18 – Eric shares details of the first real estate project that he invested in
05:09 – Which are some of Eric's preferred asset classes, and why?
05:40 – Eric looks to invest in assets managed by great teams that generate positive      income streams
07:40 – How to vet and zero in on a suitable market for real estate investing; Eric shares why he prefers to invest in either high end real estate or low income housing
10:38 – How to build a dream team to manage your syndication projects
12:33 – Should you invest in markets with population growth but no job growth?
13:32 – Eric shares the importance of having a solid knowledge base before donning the hat of an operating partner in real estate syndication
15:21 – Importance of finding investors who are in perfect alignment with your thinking
17:36 – Tips and Tricks for convincing HNI's to join you as investors in your syndicated deals
20:56 – Eric has some great advice for folks who wish to build long term relationships with investors
25:23 – What's the #1 reason why syndicators fail?
27:54 – What is the #1 thing that has contributed to Eric's success in the syndication business?
29:55 – Eric shares his contact information
32:17 – Share, Review and Subscribe to the Real Estate Syndication Show
[spp-timestamp time="32:35″] – Special thanks to our sponsor, LifeBridge Capital
In this episode, you will learn:
How to build a dream team to manage your syndication projects
The ART of convincing HNI's to come aboard as investors for your syndication deal
How to vet market areas for real estate syndication
Resources
Love the show? Subscribe, rate, review, and share!
Join the Real Estate
Syndication Show Community: