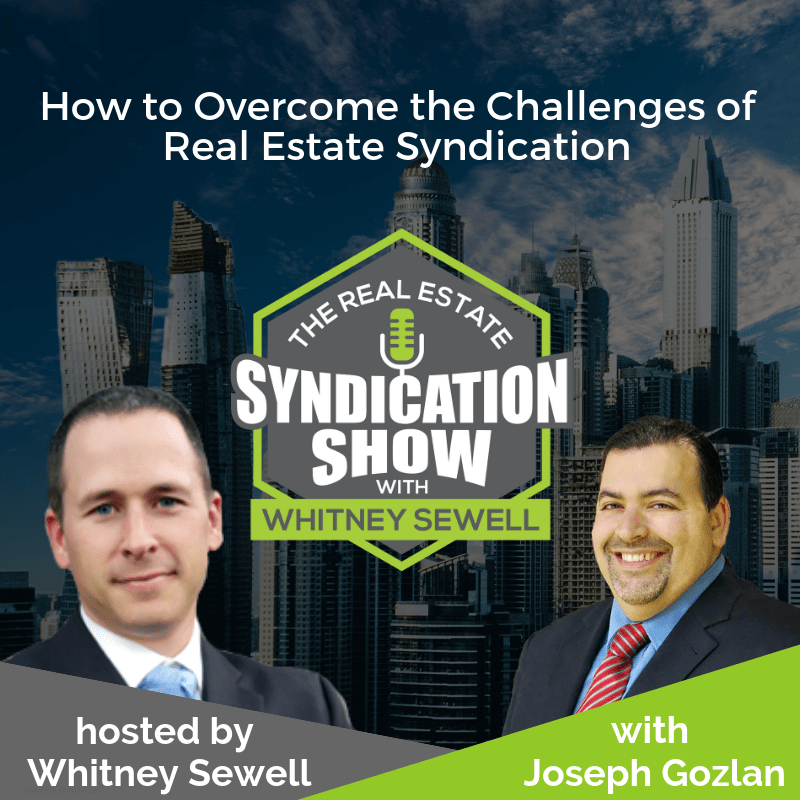 Listen to the podcast here:
Summary:
In this episode, Whitney interviews Joseph Gozlan, Managing Principal and Multifamily Investment Specialist, EBG Acquisitions. Joseph is also a public speaker and published author. In this show, Joseph reveals some expert Tips for overcoming the various challenges of real estate syndication.
Is it better to opt for multifamily investment over other asset classes? We reveal why multifamily is one of the hardest classes to disrupt. Joseph shares how proactive capital raising, partnering with the right people and conservative underwriting can help mitigate risk and help you build a stable and successful syndication business. Tune in for some great insights!
Our Gracious Sponsors:
Make sure to be at Joe Fairless's Best Ever Conference, February 22-23, 2019. Use code: #WHITNEY for 10% OFF!!!
Phoenix Syndication Workshop 2019 is a premier 2-day educational and networking event hosted by noted real estate investors Ben Leybovich and Sam Grooms January 26 – 27, 2019.
Multifamily Investor Nation Investor Summit January 17-19, 2019 – 3 full days of content from over 50 expert speakers! Use code: WHITNEY for $100 OFF the FULL ACCESS PASS tickets!
Time Stamped Show Notes:
[spp-timestamp time="00:00″] – Joe Fairless's Best Ever Conference is coming up in Denver this February. Do not miss out!
01:16 – Whitney introduces Joseph to listeners
01:42 – How did Joseph transition to real estate investing, and then syndication?
03:08 – Joseph explains why he prefers multifamily over other asset classes
04:44 – Why is multifamily one of the hardest classes to disrupt?
05:53 – Joseph is honest enough to admit that a lack of education forced him to start with single family investing
06:50 – Is a multifamily investment safer compared to a single family investment?
08:33 – What is the most challenging aspect about the syndication business?
09:32 – Being proactive about finding investors and raising capital is critical for success
11:14 – Importance of finding a partner with complimentary skillsets
12:30 – Joseph urges investors to be conservative in their underwriting by factoring in current market conditions
14:50 – What is the biggest mistakes that syndicators make while underwriting a deal?
[spp-timestamp time="17:55″] – Learn from industry experts Phoenix Syndication Workshop January 26–27
19:10 – Joseph explains his rationale for investing in a 236 unit property in Texas
20:03 – Tips and Tricks for building relationships with brokers and getting your off market deals
23:38 – Will becoming a broker help you transition into the syndication business?
24:59 – How has Joseph structured his recent acquisition in Texas?
25:35 – What is a bridge loan? How does a bridge loan differ from a HUD loan?
27:28 – Are investors right in being nervous about taking on a bridge loan?
29:37 – What is the #1 thing that has contributed to Joseph's success?
31:01 – What has Joseph recently done in order to improve his business?
32:31 – Joseph shares his contact information
32:56 – Schedule a call with Whitney now!
[spp-timestamp time="33:15″] – A Special Thanks to our sponsor, Life Bridge Capital
In this episode, you will learn
How millennials are driving demand for multifamily residences
Tips and Tricks for building solid relationships with real estate brokers and getting off market deals
The ART of conservatively underwriting a real estate deal
Bridge Loan vs. HUD loan – A detailed comparison
Resources