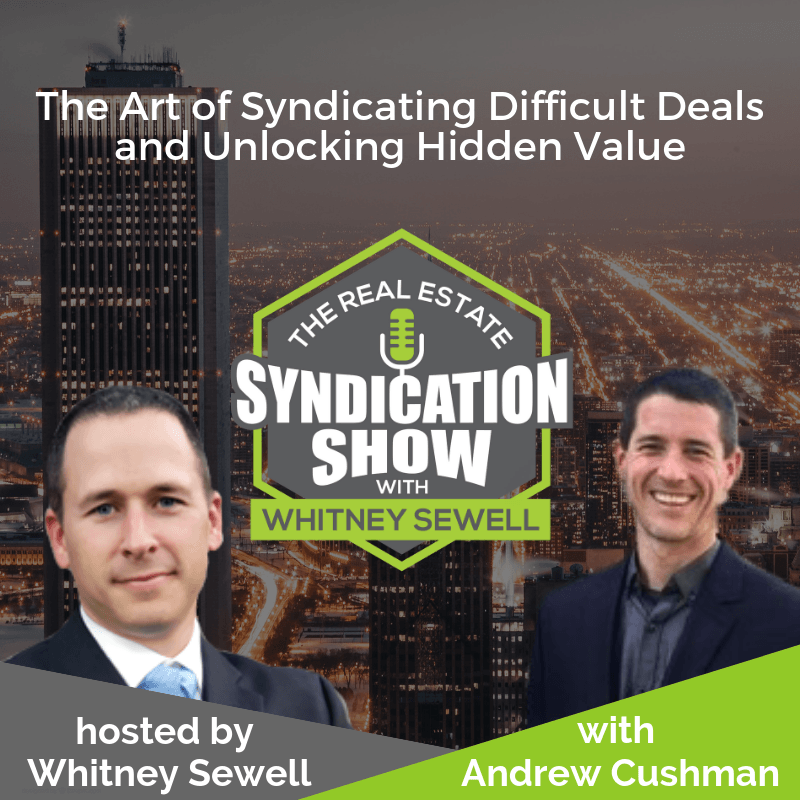 Listen to the podcast here:
Summary:
Andrew Cushman, Principal/Manager, Vantage Point Acquisitions, LLC shares some expert strategies for finding and repositioning value add properties recession proof properties in syndication.
Andrew explains how he got started in the syndication business. You will learn how you can build credibility with your brokers even if you have no track record. How do you syndicate a particularly difficult real estate deal? How do you find value add properties in recession-proof markets? Andrew shares how he managed to attain a 300% ROI on a recent deal. For all this and much more, tune in to our latest show!
Our Gracious Sponsors:
Make sure to be at Joe Fairless's Best Ever Conference, February 22-23, 2019. Use code: #WHITNEY for 10% OFF!!!
Time Stamped Show Notes:
00:29 – Whitney introduces Andrew to listeners
01:30 – Why did Andrew transition from fix and flip to multifamily syndication?
02:25 – Why did Andrew syndicate his first real estate deal?
02:51 – Andrew reveals how he found his first real estate deal in Macon, Georgia
03:58 – Tips and Tricks for presenting yourself  to real estate brokers, and have them take you seriously
05:55 – How did Andrew raise capital for his first syndication deal?
07:52 – Should you attempt to self-manage your real estate property located in another state?
08:38 – Is your renovation budget likely to shoot up if you invest in a property that has been lying vacant for a long time?
10:00 – Did Andrew attempt to renegotiate his buying price after discovering that the property required extensive repairs?
10:41 – Main factors that helped Andrew increase the value of his investment multiple folds
11:08 – Andrew reveals how partnering with the local community helped him immensely in his rehab efforts
12:19 – How did Andrew gain the confidence to syndicate a particularly difficult deal?
13:24 – Andrew shares how he managed to grow his $2.4 million investment in a 122 unit property to $7.1 million
14:37 – What is the likelihood of finding a multi-bagger real estate deal in the current market conditions?
15:12 – Andrew reveals his methodology for discovering real estate properties with a hidden and unlocked value
16:20 – How to discover a recession-proof real estate market
17:53 – Are you more likely to come across a poorly managed property in an area with lower median income?
18:59 – Andrew has some great advice for inexperienced investors who are planning on venturing into syndication
20:43 – What has been the most challenging aspect of the syndication business for Andrew?
21:37 – Which has been the most important attribute that has contributed to Andrew's success?
22:25 – Some ways which have helped Andrew greatly improve his business
23:12 – How an investor portal can help you keep a track of your investments
24:25 – Andrew shares his contact information
24:51 – Schedule a call with Whitney now!
[spp-timestamp time="25:14″] – A Special Thanks to our sponsor, Life Bridge Capital
In this episode, you will learn
Tips and Tricks for building credibility with real estate brokers even when you have no track record
The ART of discovering a recession-proof real estate market
Strategies for finding a real estate property with hidden value, and turning it around so that your investment grows many fold
Resources
Love the show? Subscribe, rate, review, and share!
Join the Real Estate
Syndication Show Community: