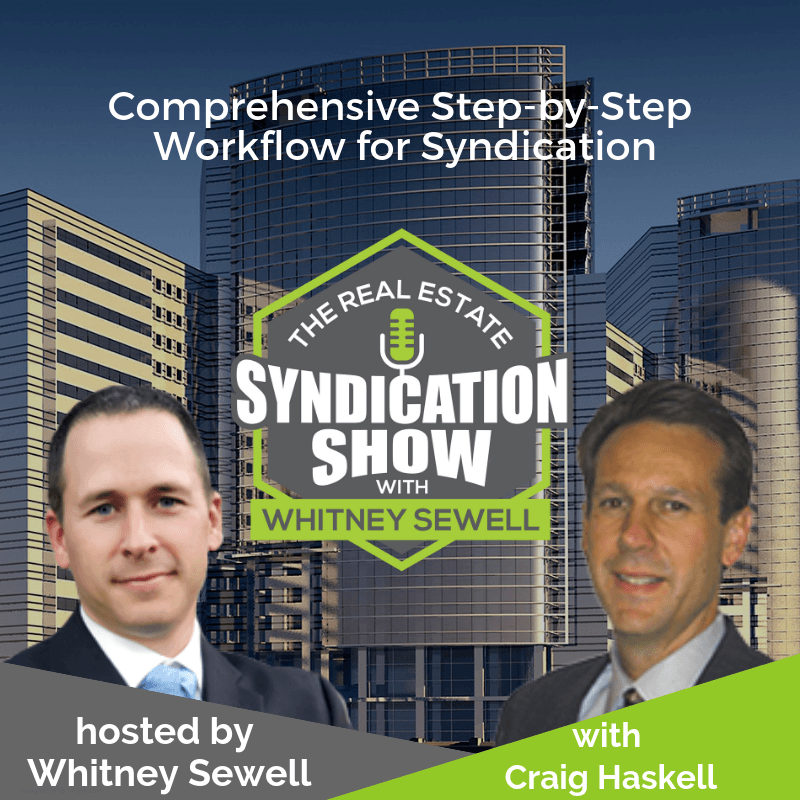 Listen to the podcast here:
Summary:
Craig Haskell, Founder, Value Hound Academy shares a comprehensive step-by-step workflow for inexperienced entrepreneurs who wish to make it big in the syndication business.
How can you discover lucrative and less competitive niches within the real estate sector? Which are some critical skills that you need to master in order to find continued success in the syndication business? From discovering your "WHY" to implementing your audacious goals, this show has some great Tips and Tricks for aspiring and as well as established syndicators. Tune in for some great insights!
Our Gracious Sponsors:
Make sure to be at Joe Fairless's Best Ever Conference, February 22-23, 2019. Use code: #WHITNEY for 10% OFF!!!
Time Stamped Show Notes:
00:29 – Whitney introduces Craig to listeners
01:30 – How did Craig start off in the real estate investing business?
02:26 – Craig shares how he learnt the ropes of the syndication business
03:47 – Craig syndicates his first deal
04:33 – How changes to the taxation law opened up some lucrative investing opportunities for Craig in 1986
08:13 – Discovering a strong "Why" will lay a strong foundation for your business
09:32 – How to boost your productivity; Craig gives us a "peek" into his soon-to be published book
11:15 – Every LARGE business started out small
11:49 – Important skills that you need to master for efficiently operating a syndication business
12:45 – A solid support system will help you meet your entrepreneurial goals
14:27 – Joe Fairless's Best Ever Conference is coming up in Denver this February
15:30 – How a well-thought-out business plan can help you discover a profitable niche
18:21 – With the advent of ecommerce, how do you find lucrative investment opportunities within the retail sector?
19:31 – Having solid systems and processes is crucial for executing your plan and realizing your goals
20:10 – Craig espouses on the need to maintain firm FOCUS during executing
22:07 – Syndication vs. single family homes – which is a better investment, and why?
22:48 – What has been the most challenging aspect of the syndication business for Craig?
22:55 – What has been the single most important thing that has contributed to Craig's success?
25:52 – Craig is working on a game that will help you learn the nuances of the business
26:42 – Craig shares his contact information
28:04 – Schedule a call with Whitney now!
[spp-timestamp time="28:37″] – A Special Thanks to our sponsor, Life Bridge Capital
In this episode, you will learn
Step by step workflow for setting up and running a successful syndication business
How to discover a lucrative niche within the real estate sector
Importance of maintaining FOCUS while executing your business plan
Resources
Love the show? Subscribe, rate, review, and share!
Join the Real Estate
Syndication Show Community: