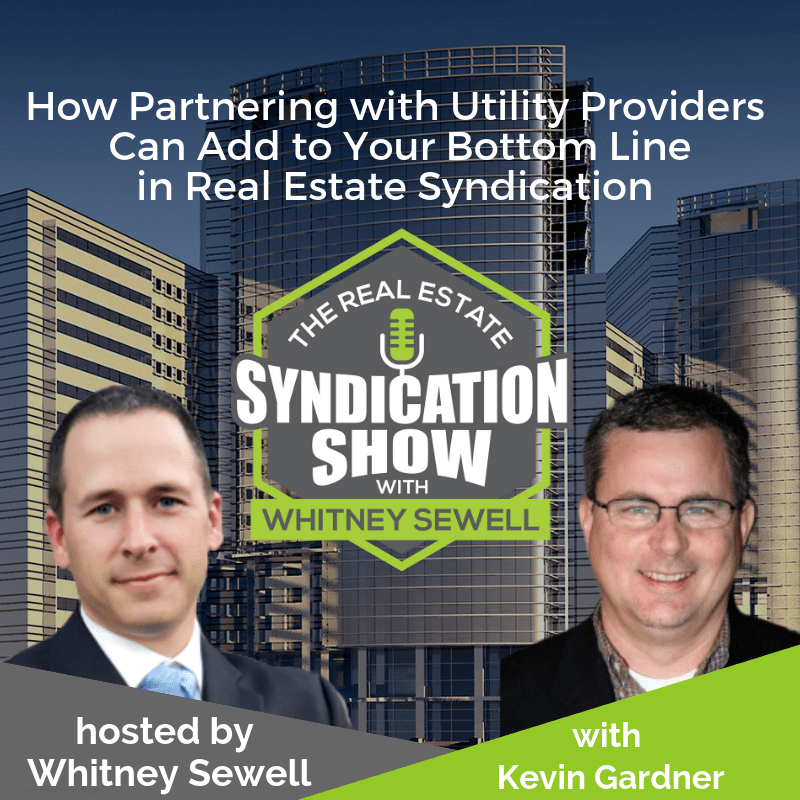 Listen to the podcast here:
Summary:
Kevin Gardner, Managing Partner, Multifamily Utility Solutions reveals how syndicators can partner with utility providers to increase the ROI on their investments.
Will a utility provider partner with you if you own a small property? What sort of savings and bottom line addition can you expect on inking such a partnership? You will also the nuances of structuring a contract with your utility provider so that you can draw maximum benefit from partnering with a utility provider. Tune in for some great money-making tips!
Our Gracious Sponsors:
See The Real Estate CPA's Special Virtual Workshop for the listeners of The Real Estate Syndication Show on How to Answer Tax Related Questions from Your Investors! http://bit.ly/TheRealEstateCPA-Syndication
Time Stamped Show Notes:
00:29 – Whitney introduces Kevin to listeners
01:22 – Kevin shares how his experience with utility companies can help you negotiate the best possible deal
02:13 – When is the right time for real estate investors to contact Kevin?
02:36 – Is a new owner entitled to a pro-rated share on an existing cable contact?
03:34 – Does the cable company need permission from private landowners? Which investment class
05:30 – Ideally, what property size would a utility provider be interested in?
06:14 – What sort of savings can you expect by hiring someone like Kevin?
07:12 – Apart from cable companies, which other utilities can you possibly partner with?
08:05 – Kevin shares six states with electric and gas utilities
[spp-timestamp time="08:50″] – Get your queries answered by the Real Estate CPA
10:06 – Kevin shares some little known tips for negotiating a better deal with utility providers
10:32 – How rehab plans can help you strike a better deal with your utility provider
11:26 – Can you arrive at a revenue-sharing arrangement with a utility provider?
12:17 – Kevin explains the specifics of his commission sharing arrangement
15:13 – Questions that you should ask the utility company during negotiations
17:01 – Kevin recommends watching out for auto-renewal clauses in contracts
18:16 – How a non-exclusive contract can work in your favor
19:30 – Kevin shares how you can strike a deal with your propane provider
20:21 – What is the ONE thing that has contributed to Kevin's success?
22:15 – Kevin shares his contact information
23:02 – Schedule a call with Whitney now!
[spp-timestamp time="23:24″] – A Special Thanks to our sponsor, Life Bridge Capital
In this episode, you will learn
How to negotiate a good deal with cable companies and other utility providers
Contractual nuances that you should be aware of when negotiating with utility providers
Tips and Tricks for adding to the bottom line in real estate syndication
Resources
Love the show? Subscribe, rate, review, and share!
Join the Real Estate
Syndication Show Community: