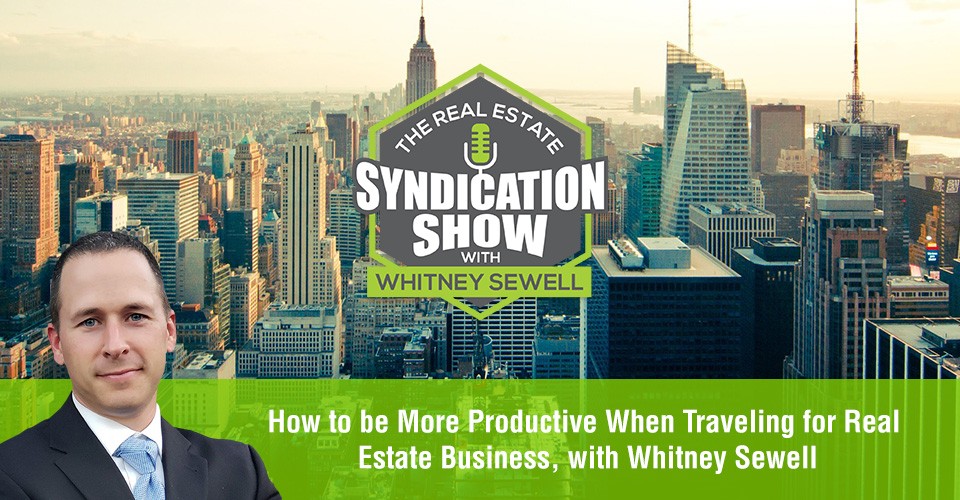 On today's episode, we are going to dive into tips and tricks on how to be more productive when you travel. It's really about optimizing your time and thinking ahead when you are planning your travel. Perhaps you are traveling to a conference or real estate event? The key is to understand that this is not a vacation; when you are traveling for your real estate business your trip should be very work-focused.

Watch the episode here:
Listen to the podcast here:
In fact, you should even try to head to as many local meetups in the areas as possible, fitting in those local networking events into your conference or event schedule. These types of face-to-face meetings can be a great opportunity for you to get to know your investors or even other real estate syndicators in the area. Spending the time together you will get to know more about their goals and their families, outside of the business. This will also show your investors that you value making the time to see them, making sure that you are doing everything you can to keep their best interests at heart. So for an incredible episode on how to make the most out of your time while traveling, listen in to today's show!
Key Points From This Episode:
Why traveling for work events should not be seen as a vacation.

The benefit of going to a conference or event one day earlier.

Organizing your travel time to include local meetups events.

Connecting with other investors and syndicators in your area of travel.

More about the investor event in Dallas and why we hosted it.

Why hosting an event for your investors is a great opportunity to connect.

The message you communicate by being on-site and seeing your units firsthand.
[bctt tweet="When I travel to conferences and real estate events, I want to optimize that time. It's not a vacation to me in any way. — @whitney_sewell" username="Whitney_Sewell"]
Links Mentioned in Today's Episode:
About Whitney Sewell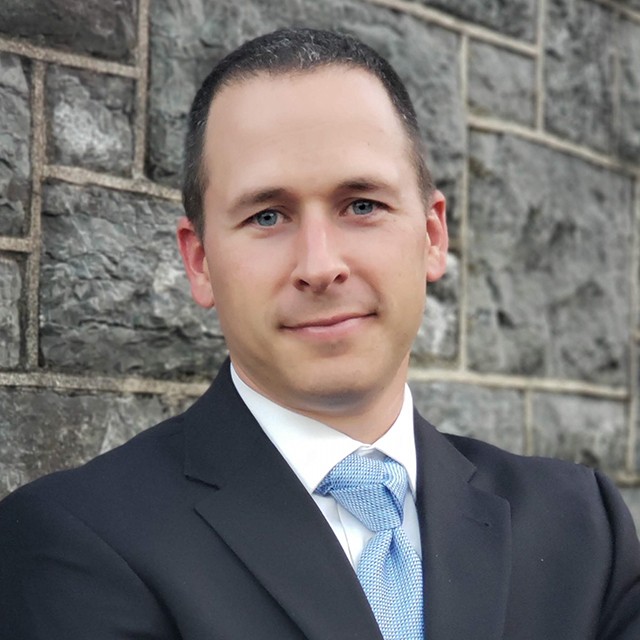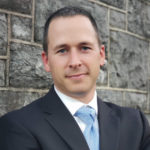 Whitney Sewell is a country boy from rural Kentucky. He grew up riding horses and has always driven a Chevy truck. He is a veteran of the Army National guard and spent all of 2005 deployed in Iraq. He was awarded Soldier of the year that year. When he arrived home he began working for the Kentucky State Police and courting his lovely wife, whom he has now been married to for 10 years. Whitney and his wife, Chelsea, have two sons who came to their family by adoption. As of now, they are in the process of adopting their third child. They began investing in real estate in 2009 when it became clear that a career in law enforcement was not going to afford them the ability to live off one income as they desired, and started Life Bridge Capital in 2017.
Life Bridge Capital LLC works with accredited investors, helping them improve their investment returns via the exceptional opportunities that multifamily syndication offers. Whitney has always had a passion for both real estate and helping others, and Life Bridge Capital LLC affords him the opportunity to do both, while also funding a very important cause that has become deeply personal. This becomes the best of both worlds for investors. They can receive exceptional returns financially, while also helping change the lives of orphans around the world, as well as the lives of the families who adopt them. Whitney is quick to point out that while this is his own passion, he doesn't make this the main focus to investors, but does hope a certain percentage feel good about what Life Bridge Capital does. "We provide a fantastic return for our investors, and that's why someone should invest with us first and foremost. However, it is my hope that this component of our business – us giving 50% of our own profit to adoption – perhaps helps sway someone to work with us, assuming all else is equal, of course.
This is our calling, but our investors can smile knowing that just by working with us, they helped a little bit too." We now have invested in over 400 doors and am on track to be over 1000 doors by mid 2019. Whitney is the host of The Real Estate Syndication Show, a daily podcast where he interviews experts in the real estate syndication business and provides essential content for his listeners. Life bridge capital's motto is: making a difference one investor, one child at a time..
Full Transcript
[INTRODUCTION]
[00:00:00] ANNOUNCER: Welcome to The Real Estate Syndication Show. Whether you are a seasoned investor or building a new real estate business, this is the show for you. Whitney Sewell talks to top experts in the business. Our goal is to help you master real estate syndication.
And now your host, Whitney Sewell.
[INTERVIEW]
[0:00:24.1] WS: This is your daily Real Estate Syndication show. I'm your host, Whitney Sewell. Today, I want to talk to you or tell you about a recent trip to Dallas. Actually, this past weekend, when I'm recording this and let you know a few ways and tips that I try to be more productive when traveling in this real estate business and optimizing that time and then also, why – the biggest reason why I went to Dallas this weekend, something that you could use in your business to help connect to investors or in this case, investors that you already have and why we were there.
To get us started, I want to talk about this, being more productive and thinking ahead when you're traveling to places, maybe you're traveling to an event, and often, when I traveled to so many conferences, real estate events, over the last couple of years I want to optimize that time. It's not a vacation to me in any way. You know, I'm away from the family, they're back at home, getting everything done at the house while I'm gone. So I don't feel like it's vacation, it's very just work-focused and that's the way I go into it.
You know, going to these events or going to a conference, a lot of times I will try to go a day earlier than normal. Maybe a day and a half earlier or stay a day later or we'll look up local meetups in the area and try to go to as many meetups as possible in that local area. Have that planned out. I'll know my routes and I'll have an assistant that helps me organize that. You know, that's another show. We've talked about assistants in numerous shows and I've got other things we're going to talk about how to use virtual assistance in the future as well.
But I want to be very organized, I want to optimize that time and I'm going to go to as many meetups and introduce myself, talk to as many people as possible, obviously, and just connect and keep connecting and then big part of that is following up obviously after you get back. But, another component to that that I like to do is personally reaching out to other individuals in the business, the other active investors, syndicators, that are – that live in that area that I'm traveling to and schedule meetings. Schedule times to interact with them and connect and so they can get to know me and I can get to know them, it's a great time to reach out. Because you're going to be in the area.
But even more importantly, do you have investors in that area? Do you have investors that are in that local market that you're traveling to? If you are, then reach out to them and let them know that you're coming. I find often, we don't get much face time with our investors and that's a problem, and it's difficult though to do. We'll travel quite a bit to meet with investors at times but it's difficult because there will mainly be one or two say in one town and if there are, then I'll try to go there occasionally and if I'm going there, especially for a conference or another event, I want to reach out to them or make a point to go early enough to sit down face to face and to speak with them, have coffee or a meal, take them out to dinner, take their family out to dinner, I'd love to get to know them and who they are outside of business, outside of real estate and then also let them get to know me as well better.
I enjoy those meetings, it's – I really do, I enjoy them getting to know who they are outside of how we think about investing and multifamily versus other assets or other returns we're looking for and all those things that investors have questions about, of course, but I enjoy getting to know them outside of the business and I think they enjoy getting to know me as well outside the business and it's a prime opportunity to do that. So think ahead and plan that out. But even without their operators in the area, find out who is in that area. You can go BiggerPockets, you can go to numerous places and find ways to learn who is in that market that you want to connect with and be very purposeful and schedule times, find a location where you can meet at a coffee shop and maybe there's a restaurant close by and you can kind of bounce back and forth if you need to or what not, allowing time to meet with somebody and then have another meeting pretty quickly after. It's very common that I'll do that.
So, this past weekend, my partner and I, Sam, we traveled to Dallas and the main reason we were there this weekend is to hold our own personal investor event, okay? We closed on 180 units about three months ago, just over three months ago and we want to get to know these investors the best we can and their needs, their goals, and making sure we're accomplishing those the best that we can and allowing them to get to know us as well. So we had a concentrated group of investors who are in the Dallas area and so we said, "Why not have an even there and allow all of them to get together and hand out like their first distribution?"
So that was the biggest reason we were there, hand out their first distribution, but then also for them to ask questions and us to be able to talk about the market and talk about the property, things that have happened, things good or bad and talk about how we're moving forward, talk about everything that we're learning about the market and what we see coming and things that are happening in the business and how we're growing and moving forward and how we want them to be a part of it. So it was received very well, it was just a great time of having a meal together. We actually, an investor hosted it as well at his house. So it was really – it went over very well; it was a very good event. I would encourage you to think about that.
Even if you go to a place where you have three or four investors. Well, get them together and so you all can just talk and learn about your business and they can get to know you at a more personal level and know that will payoff for you and I will encourage you to be thinking ahead while you're traveling to maximize that time while you're at an event or while you're going to this conference. Well, go a day early and you know, if you have investors there, even if you don't, find other operators, find other people that you can network with so you can better use of that time and it will definitely payoff and it says a lot to that person and those people that you are proactive and that you want to get to know them. It says a lot to them, you know, you've come in early to meet them. There is a lot of time and expense there to make that happen.
Especially with investors. You know, they want to know that you want to connect. They want to know that you care about their goals and that you obviously care about their investment and getting to know them. So I would encourage you to do that. Another thing we did this weekend while in Dallas and we partnered on about 700 units in the Dallas Fort Worth area and so it was great to tour those properties but you know learning more about this, you know the Dallas Fort Worth markets that are exploding, it's amazing to see what all is happening there.
But getting to go in and talk to the property management teams that are there and the managers and learn about what's happening. You know, what's happened since I was there last, to actually tour some units, to walk around the property and see what is happening firsthand and so I want to do that every chance that I can and so I can give that feedback to our investors as well and not just from phone calls or weekly meetings over the phone or Zoom or whatever with the management companies. But to actually be on the ground, looking at these properties, taking photos and video and so the investors can see that you are active, you're there. You are looking out for them and you are taking action and being proactive as well and also just so the management companies are on their toes. They know that you could just pop in at any time and we didn't tell the manager on site that we were coming. We just showed up and said, "Hey when you have time we would love to tour a few units and just talk to you about the operation some," and so I would encourage you to do that as well.
But get there, get photos, get pictures and make sure obviously you are asset managing. You are making sure things are operating on a weekly basis or even more so. It is just the communication with the manager or your asset manager but, you know, I love just showing up, I love touring the units, seeing what is happening firsthand and being on site. But that also says a lot to your investors that you are doing that. So I cannot stress that enough but being purposeful with your travel, getting there early or staying late, meeting with your investors, meeting with other operators and then also touring units, touring the properties, and then also touring other properties that you are not a part of. We have learned a lot just by touring other properties and markets, obviously talking to brokers, I can't stress that enough.
So I want to ask you to share the show. I want to ask you to share the show with a friend, tell a friend about the Real Estate Syndication Show and you know I would love for you to connect in the Real Estate Syndication Show Facebook group. I would like for you to leave questions on there or reach out to me personally and you can do that at [email protected] and we would love to hear feedback. We are always trying to improve the show and making it better.
And so you can educate yourself very inexpensively. I mean, you are getting to hear the experts in the business being interviewed and talk about how they got where they're at and how they've become successful in the space and I would love to hear your questions that you have. I would love to know the questions that you would like me to ask. Feel free to send me an email, feel free to leave questions in the group as well.
A lot of these guest that have been on the show are also members in their group. So you can even tag one of them or mention one of them and if you have a question for them personally and so get some interaction going there as well and then go to lifebridgecapital.com, sign up on the contact us page and we'll reach out to you personally. We would love to have a conversation with you so I can learn about your goals and we can connect and if there is some way I can help you or you know a lot of times, there's even shows that I can point you to where people who have been interviewed that I know can help you and your situation.
So please reach out, please connect. Thank you for listening. Hope you're sharing this show and we will talk to you again tomorrow.
[OUTRO]
[0:09:58.1] WS: Don't go yet, thank you for listening to today's episode. I would love it if you would go to iTunes right now and leave a rating and written review. I want to hear your feedback. It makes a big difference in getting the podcast out there. You can also go to the Real Estate Syndication Show on Facebook so you can connect with me and we can also receive feedback and your questions there that you want me to answer on the show.
Subscribe too so you can get the latest episodes. Lastly, I want to keep you updated so head over to lifebridgecapital.com and sign up for the newsletter. If you are interested in partnering with me, sign up on the contact us page so you can talk to me directly. Have a blessed day and I will talk to you tomorrow.
[END OF INTERVIEW]
[0:10:38.6] ANNOUNCER: Thank you for listening to The Real Estate Syndication Show, brought to you by Lifebridge Capital. Lifebridge Capital works with investors nationwide to invest in real estate while also donating 50% of its profits to assist parents who are committing to adoption. Lifebridge Capital, making a difference one investor and one child at a time. Connect online at www.LifeBridgeCapital.com for free material and videos to further your success.
[END]
Love the show? Subscribe, rate, review, and share!
Join the Real Estate Syndication Show Community: