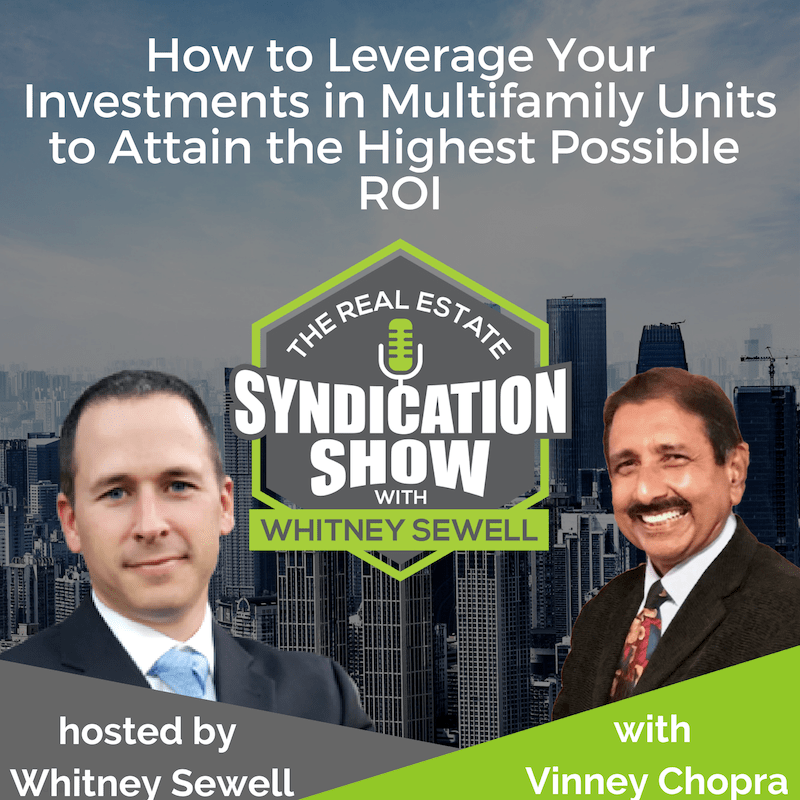 Listen to the podcast here:
Summary:
In this episode, Whitney interviews Vinney Chopra, CEO of Moneil Homes. Vinney reveals how he managed to build a $200 million real estate portfolio through disciplined and smart financial investing. You will learn how real estate syndication allows you to allocate your resources in the most efficient way possible. What is the most suitable legal structure for a real estate syndication? And, why is Vinney so pumped up about investing in multi-family homes? This episode is loaded with Tips and Tricks that are sure to help you immensely in your business. Tune in now!
Follow Us:
Time Stamped Show Notes:
[spp-timestamp time="00:24 – Whitney welcomes Vinney Chopra
01:55 – Vinney shares how he got into real estate syndication
03:07 – His first investment grew from $65,000 to $315,000!
04:42 – Vinney started investing in multi-family homes in 2004
05:07 – Advantages of investing in multi-family homes compared to single family homes
07:10 – Discussing how syndication allows you to invest in bigger properties and scale up
08:07 – Defining "real estate syndication" – understanding the NUANCES
10:02 – How the possibility of generating a greater ROI makes multi-family a better investment proposition
11:40 – What are some of Vinney's leadership traits which make him a successful investor
13:09 – #1 thing that makes Vinney tick
14:08 – How can you raise money if you wish to venture into real estate syndication?
14:33 – Vinney discusses Legal structure and payment distributions
15:43 – The advantages of becoming a partner rather than a real estate investor
16:46 – Expert TIPS that can help you find investors for your real estate business
18:59 – Effective COMMUNICATION
20:00 – Why is it advisable to work through a listing agent and not buyer agent?
21:43 – How smart packaging can help you build your credibility
23:40 – The importance of sticking to ONE thing in order to find success
25:02 – How millennials and baby boomers are fueling the demand for multi-family homes
27:08 – Contact Vinney at 925-766-3518
[spp-timestamp time="27:24″] – Click HERE to get your FREE deal underwriting spreadsheet; alternatively, you can text "Syndication" to 474747
[spp-timestamp time="28:08″] – Review and subscribe to the Real Estate Syndication Podcast
[spp-timestamp time="28:11″] – A special thanks to our sponsor, Life Bridge Capital"
In this episode, you will learn:
The many advantages of investing in multi-family homes
The ART of effective communication which can even help a new investor build market credibility
Legal structure and payment distributions for a real estate syndication
Resources
Interested in knowing MORE about a proven business model than can generate EXCEPTIONAL returns for you? Connect with us!
[spp-tweet tweet="tweet this"]
Love the show? Subscribe, rate, review, and share!
Join the Real Estate
Syndication Show Community: