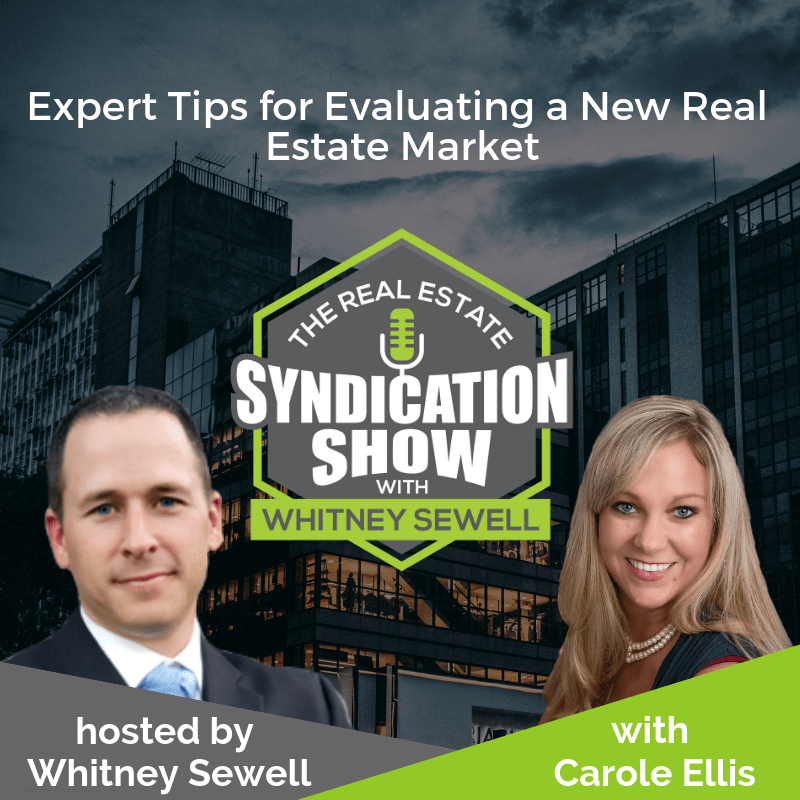 Listen to the podcast here:
Summary:
In this episode, Whitney interviews Carole Ellis, COO and editor for Self-Directed Investor Society and REIWire.com. Carole and her husband, Bryan Ellis have been investing in real estate since 2006. Carole reveals some great Tips which will help real estate syndicators evaluate new real estate markets.
What are some little known but important facts about Self Directed Investments which will help you make better investing decisions? What lessons can you learn from syndicators who were banking on the fact that Amazon will set up their HQ in Atlanta? We also share how you can analyze economic indicators like population growth and flipping indicator to receive actionable insights. This show is loaded with immense value. Tune in now!
Our Gracious Sponsors:
Make sure to be at Joe Fairless's Best Ever Conference, February 22-23, 2019. Use code: #WHITNEY for 10% OFF!!!
Multifamily Investor Nation Investor Summit January 17-19, 2019 – 3 full days of content from over 50 expert speakers! Use code: WHITNEY for $100 OFF the FULL ACCESS PASS tickets!
Time Stamped Show Notes:
00:29 –  Whitney introduces Carole to listeners
00:56 – How did Carole get involved in real estate investing?
02:07 – What is the primary focus and purpose of SDI?
03:20 – Little known facts about Self Directed Investments that will help syndicators make better decisions
04:35 – How to evaluate a market when syndicating a deal
08:06 – What is an acceptable population growth rate for a real estate market?
10:05 – Does SDI endorse a real estate deal?
12:30 – Carole shares their modus operandi for conducting research and pushing out industry relevant data
14:19 – Syndicators in Atlanta were caught on the wrong foot as Amazon shifted their headquarters to NYC and DC
17:26 – Expert Tips for investing in an opportunity zone
20:19 – What insights can you derive from following the flipping indicator?
22:09 – How can SDI help you widen your knowledge base?
23:15 – Carole shares her contact information
23:48 – Share, Review and Subscribe to the Real Estate Syndication Show
23:59 – A Special Thanks to our sponsor, Life Bridge Capital
In this episode, you will learn
How to analyze important economic indicators while evaluating a new real estate market
How real estate investors in Atlanta were caught unaware when Amazon decided to shift based to NYC and DC
Tips and Tricks for investing in an opportunity zone
Resources
Love the show? Subscribe, rate, review, and share!
Join the Real Estate
Syndication Show Community: