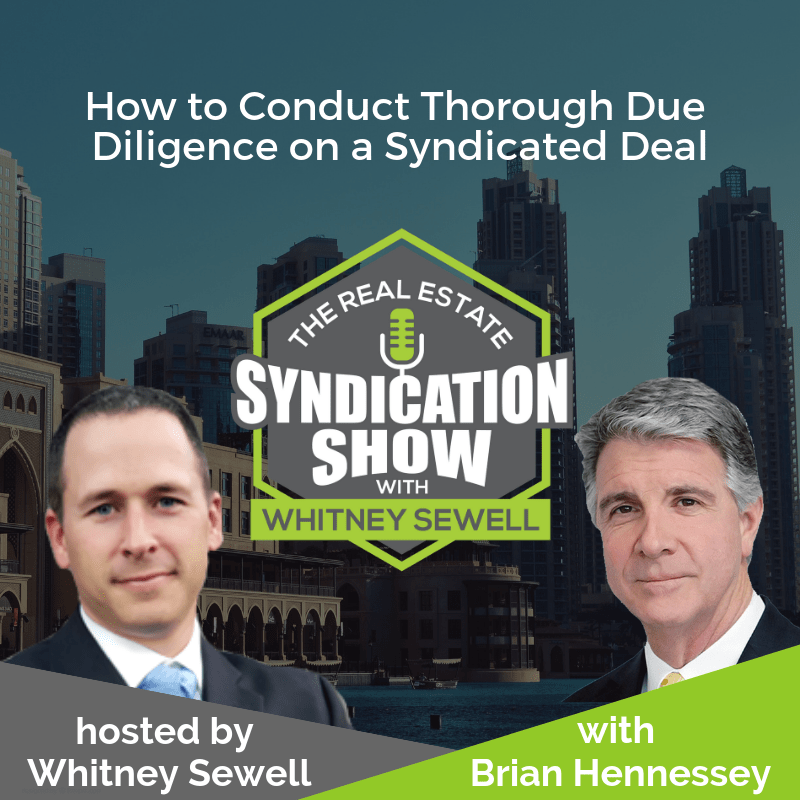 Listen to the podcast here:
Summary:
Brian Hennessey, a real estate investor and broker with more than 30 years of experience REVEALS some nuanced insights which will enable syndicators to better conduct due diligence of large real estate properties.
What are some common mistakes that syndicators make while conducting their due diligence? How do you accurately track conversations with stakeholders in the syndication process? This show is loaded with immense value – especially for first-time investors who are uncertain how they can evaluate a syndication deal. Tune in for some great insights!
Our Gracious Sponsors:
Make sure to be at Joe Fairless's Best Ever Conference, February 22-23, 2019. Use code: #WHITNEY for 10% OFF!!!
Time Stamped Show Notes:
00:29 – Whitney introduces Brian to listeners
01:32 – How did Brian transition into the syndication business?
03:40 – A humiliating experience on his first deal makes Brian realize the importance of proper due diligence
05:22 – Brian creates a reference manual in order to streamline his acquisition process
06:09 – How did Brian manage to hold on to 350,000 square feet of office space that he purchased in 2007 just before the subprime crisis?
08:43 – Importance of educating yourself for conducting a thorough due diligence
09:19 – How a proper due diligence gave Brian the confidence to acquire real estate portfolios to the tune of millions of dollars
10:25 – Common mistakes that syndicators make while conducting due diligence
13:55 – Brian shares how his reference manual morphed into a New York bestseller
14:28 – How to accurately track conversations with stakeholders in the syndication process
17:10 – The need for more inexperienced syndicators to be more aggressive while approaching lenders
18:55 – How accurate and conservative underwriting is critical for finding success in the syndication business
21:26 – Brian's advice for inexperienced investors who wish to transition to real estate syndication
23:21 – What is the #1 thing that has contributed to Brian's success?
25:32 – Brian's parting advice for syndicators
27:00 – Can low interest rates be a permanent phenomenon?
27:52 – Get 25% off some in-depth real estate courses
29:15 – Brian shares information about his past and current books
29:49 – Schedule a call with Whitney now!
[spp-timestamp time="30:11″] – A Special Thanks to our sponsor, Life Bridge Capital
In this episode, you will learn
How to conduct thorough due diligence while syndicating deals
How to accurately track conversations with stakeholders in the syndication process
The ART of conservatively underwriting a real estate deal
Resources
Love the show? Subscribe, rate, review, and share!
Join the Real Estate
Syndication Show Community: