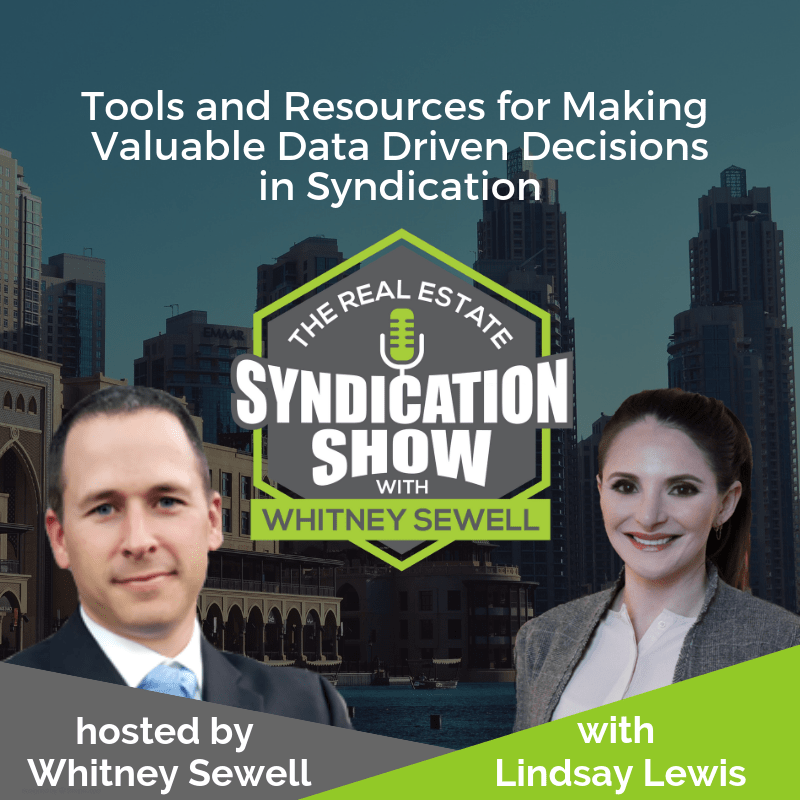 Listen to the podcast here:
Summary:
Lindsay Lewis, Director of Business Intelligence, Spartan Investment Group, LLC. develops and implements strategies for leveraging data, technology, and research to identify lucrative investment opportunities.
Lindsay shares some great tools and resources that she is using at Spartan to make data-driven and value-added decisions. How do you procure and analyze data to scout out suitable investment opportunities? What sort of market insights can you get by using these popular data tools? You will also learn how to streamline your workflow using automation. Tune in to discover how you can leverage data and technology to make the right investing decisions.
Time Stamped Show Notes:
00:28 – Whitney introduces Lindsay to listeners
01:09 – Lindsay shares her background information
01:58 – How Lindsay is using a data-driven approach to draw actionable insights at her organization
02:53 – Typically, what is the nature of data sets that Lindsay relies on?
03:29 – Lindsay shares how she used her analysis skills to identify a great investment opportunity in the self-storage industry in the South of Seattle
04:37 – Are there any data sources that are freely available?
05:33 – Popular and Recommended data sources that Lindsay regularly uses at Spartan
06:03 – What sort of market insights can you derive through these data sources?
08:09 – Lindsay reveals how she is simplifying the acquisition process by overlaying zoning information over interactive maps
09:42 – Which software does Lindsay use to create interactive maps?
10:45 – Tips and Tricks for making data-driven decisions in syndication
11:44 – What is the most challenging aspect of her job?
12:36 – What is the #1 thing that has contributed to Lindsay's success?
13:06 – Lindsay shares how she is using automated workflows
15:12 – Going forward, what is Lindsay most excited about?
16:30 – Lindsay shares her contact information
17:02 – Schedule a call with Whitney now!
[spp-timestamp time="17:21″] – A special Thanks to our sponsor, Life Bridge Capital
In this episode, you will learn
Recommended resources that will help syndicators make data-driven decisions
Different market insights that syndicators can receive via different data tools
The ART of identifying real estate investment opportunities using popular data tools
Resources
Love the show? Subscribe, rate, review, and share!
Join the Real Estate
Syndication Show Community: