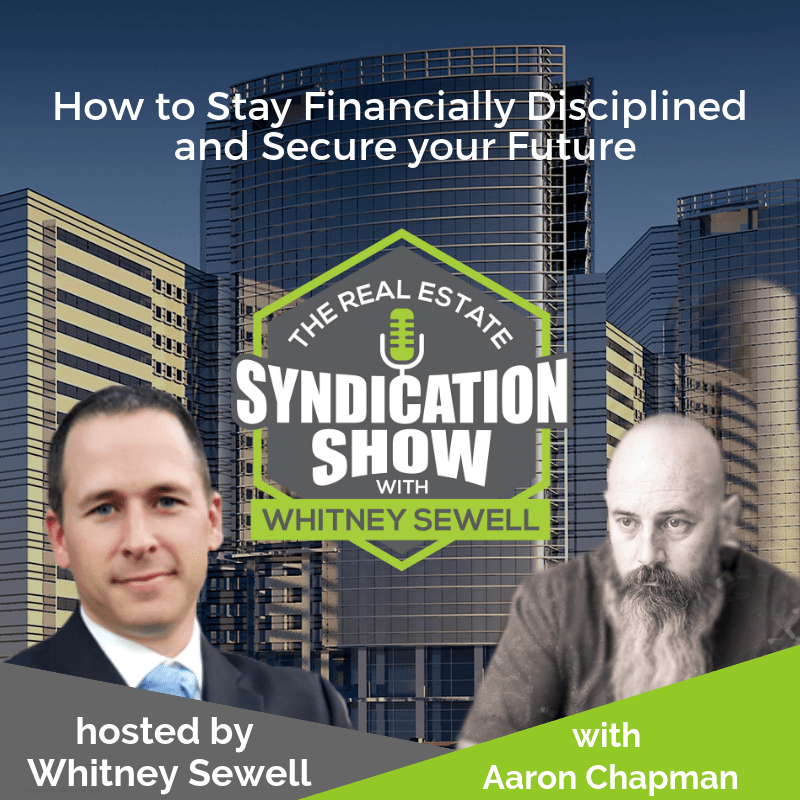 Listen to the podcast here:
Summary:
Aaron Chapman, Branch Manager, Real Estate Finance at SecurityNational Mortgage Company shares how common sense and financial discipline can help you achieve your financial goals, and secure your and your family's future.
How is Aaron teaching his children aged 12 to 19 the nuances of property investing and financial planning? How can you inculcate in your children the habit of saving? You will learn how the power of compounding can help combat inflation – thus allowing you to meet your end goals.
Aaron also shares how he and his organization can help you build a long term and stable real estate investing business. Tune in for some great insights!
Our Gracious Sponsor:
See The Real Estate CPA's Special Virtual Workshop for the listeners of The Real Estate Syndication Show on How to Answer Tax Related Questions from Your Investors! http://bit.ly/TheRealEstateCPA-Syndication
Time Stamped Show Notes:
00:29 – Whitney introduces Aaron to listeners
01:18 – Aaron hits the lowest point of his life
03:27 – Aaron's AH-HA moment: He discovers real estate investing
04:40 – How leverage can massively push up ROI's in real estate investing
05:30 – How many transactions does Aaron execute every year?
06:00 – Aaron provides value add services that can help you build a long term and sustainable real estate investing business
06:29 – Importance of experience and track record in real estate investing
08:52 – What is the ideal client profile for Aaron?
09:13 – How Aaron's in-depth understanding of the real estate market gives me him a competitive advantage over commercial banks
10:18 – Get your tax queries answered by the Real Estate CPA
11:54 – Why does Aaron prefer to finance his real estate investments with money borrowed against his life insurance policy?
14:12 – Aaron reveals how he is inculcating financial discipline into his children
14:53 – How is Aaron teaching his children the ropes of the syndication business
18:03 – How the power of compounding can multiply your investments multiple folds over the long run
22:36 – How did Aaron come with a sound financial plan for his kids? Aaron reveals the benefits of involving kids in your business and finances from a young age
26:46 – What is the most important thing that has contributed to Aaron's success?
27:37 – How a life-threatening accident changed Aaron's perspective towards life
29:51 – Aaron shares his contact information
30:48 – Schedule a call with Whitney now!
[spp-timestamp time="31:00″] – A Special Thanks to our sponsor, Life Bridge Capital
In this episode, you will learn
How financial leverage can help generate extremely attractive ROI's in real estate investing
Effective ways of teaching finances to your children
How to teach your children the nuances of the syndication business
Resources
Love the show? Subscribe, rate, review, and share!
Join the Real Estate
Syndication Show Community: