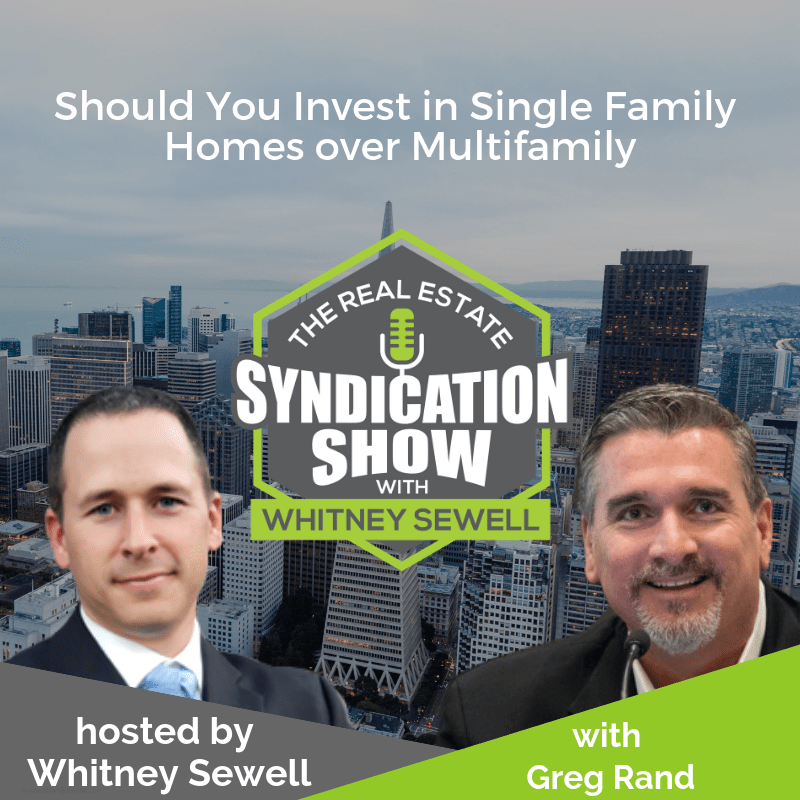 Listen to the podcast here:
Summary:
Greg Rand, Chief Strategy Officer at Renters Warehouse shares how you can profitably invest in single-family homes and reveals the many benefits of single family investing over multifamily.
This show starts off with Greg sharing how the US housing market has evolved over the years. Greg cites various statistics to reveal the immense potential of investing in single family homes. Is the multifamily market oversaturated with institutional investors? How can exposure to single-family homes help you retain your tenant base for a longer duration? You will also learn some expert tips for managing a single-family portfolio.
Tune in for some excellent insights!
Our Gracious Sponsors:
Are you wanting to learn how to gain financial freedom through having your own syndication business?  Text LEARN to 474747 to begin to learn from one of the best in the industry, Vinney Chopra. Vinney came to the US with only $7 in his pocket, and now controls hundreds of millions of dollars of real estate he has acquired through multifamily syndication.  He is now personally coaching others to do the same. Text LEARN to 474747 to begin your journey to starting your own syndication business! Vinneychopra.com
Time Stamped Show Notes:
00:00 – Text LEARN to 474747 to learn the nuances of multifamily syndication from Vinney Chopra
02:12 – Whitney introduces Greg to listeners
02:39 – Greg shares his background information
04:51 – Have professionals and institutional investors failed to recognize the immense potential of investing in single family homes?
05:55 – Multifamily vs. Single family investing – can investors earn good returns in both these asset classes?
06:23 – Greg recalls how the 1980s saw the advent of risky banking practices
07:10 – What percentage of the total single-family home market is owned by institutional investors?
09:02 – Why are investors transitioning to single family homes?
09:30 – Discussing how holdings in multi-family and single family allow investors to retain  tenants for a longer time
11:03 – Should all your single family investments be concentrated in one area?
15:00 – How does Greg conduct due diligence of multiple single-family homes spread out in multiple areas?
15:26 – How does the larger economy affect the single-family market?
17:08 – Is investing in deep value add properties the only way to generate good returns?
19:09 – Little-known and ignored real estate markets that investors should consider
20:43 – What is one way through which Greg has significantly improved his business?
22:10 – What is the ONE thing that has contributed to Greg's success?
23:30 – Did Greg plan on selling his business?
24:17 – Greg reveals that he has a passion for helping struggling entrepreneurs
25:18 – How is Greg giving back to the community?
26:45 – Greg shares his contact information
27:13 – Schedule a call with Whitney now!
27:17 – Join our Facebook group to connect with like-minded individuals and real estate experts like Greg
27:27 – A Special Thanks to our sponsor, Life Bridge Capital
In this episode, you will learn
Overview of the single-family home market
Benefits of investing in single family homes
The ART of managing your single family portfolio
Multifamily vs. Single family investing – Understanding the Pros & Cons
Resources
Love the show? Subscribe, rate, review, and share!
Join the Real Estate
Syndication Show Community: