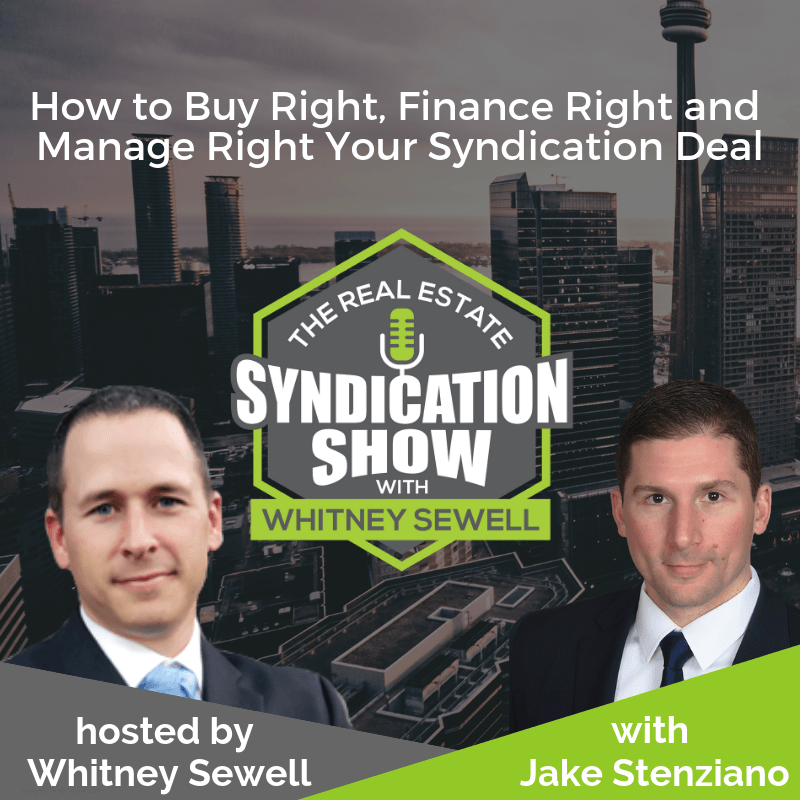 Listen to the podcast here:
Summary
In this episode, Whitney interviews Jake Stenziano, Principal, Rand Partners LLC and co-host of the popular multifamily podcast, Wheelbarrow Profits. Jake reveals how buying, financing and managing your syndication deal the RIGHT way can maximize ROI's and grow your investment portfolio.
Should you opt for a blended and flexible strategy while syndicating deals? What kind of debt should you use to finance your real estate projects? You will also learn how an in house management team allow Jake & Gino, LLC to bid aggressively and still turn around a profit. Tune in to learn some great Tips and Tricks for industry's best (literally)!
Our Gracious Sponsors:
Multifamily Mastery – Another fantastic event hosted by Jake and Gino! I've been the last two years and cannot recommend it enough!
I just bought my ticket.
http://bit.ly/JandGMultifamilyMasteryLive2019
Use code WHITNEY for $100 off!
Time Stamped Show Notes:
00:28 – Whitney introduces Jake to listeners
01:22 – Jake shares how his sales background has helped him immensely
03:35 – A large investor base and strategic financing has allowed Jake & Gino to grow their portfolio to 1,000 units
05:14 – How a blended and flexible strategy with a mix of in house financing and syndication can allow you to maximize profits and grow your real estate portfolio
06:40 – How to sharpen your sales skills
09:00 – How can inexperienced investors crack their first syndication deal?
10:40 – Jake recounts how he managed to crack a difficult 132 unit deal in Kentucky
14:47 – Deal structure and expected IRR on the 132 unit deal
15:40 – How long are Jake & Gino planning on hold onto the 132 unit deal?
16:06 – Jake reveals how he is planning on unlocking value on his recent acquisition
17:30 – What kind of debt does Jake use to finance his projects?
[spp-timestamp time="18:39″] – Joe Fairless's Best Ever Conference is coming up in Denver this February. Register now!
19:43 – Jake share his mantra – buy right, finance right, manage right
22:13 – How to educate yourself to learn the ropes of the syndication business
23:00 – Jake points out that real estate is the domain of long term investors
24:47 – Did Jake find any aspect of the syndication business really challenging?
26:44 – What is the #1 thing that has contributed to Jake's success?
28:18 – What is the #1 thing that is Jake doing to grow his business to the next level?
29:01 – Jake shares his contact information
29:24 – Jake reveals some interesting details of their upcoming conference in October 2019
29:58 – Schedule a call with Whitney now!
[spp-timestamp time="30:14″] – A Special Thanks to our sponsor, Life Bridge Capital
In this episode, you will learn
Why a blended financing strategy is critical for maximizing profits in syndication
How to buy right, finance right and manage right
Why real estate investing is the domain of long term investors
How to educate yourself and learn the ropes of the syndication business
Resources
Love the show? Subscribe, rate, review, and share!
Join the Real Estate
Syndication Show Community: