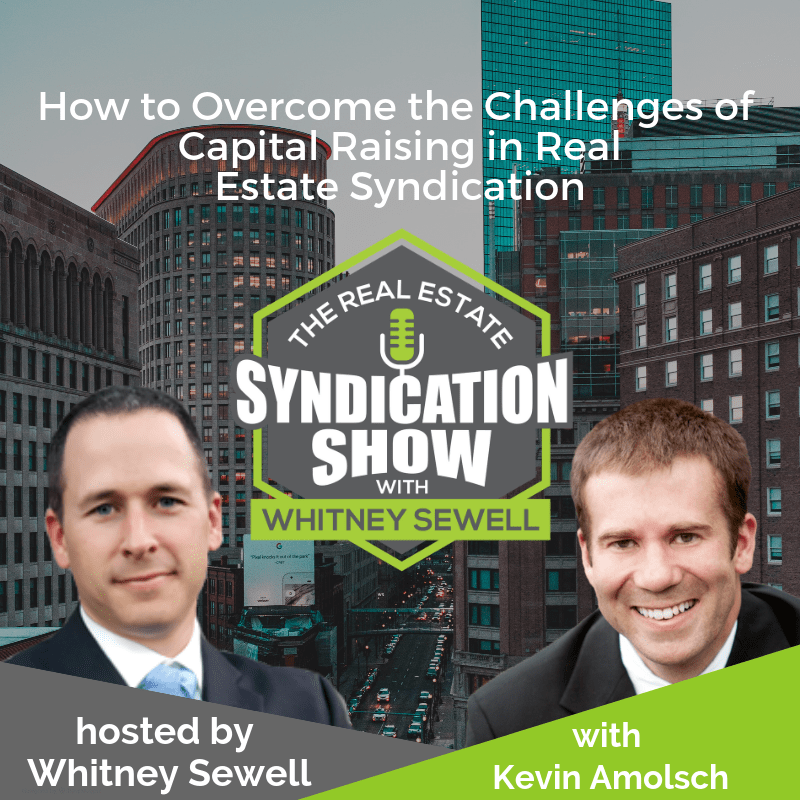 Listen to the podcast here:
Summary:
Kevin Amolsch, Founder, Pine Financial Group reveals some effective ways for overcoming some common challenges that syndicators face during capital raising in real estate syndication.
This show starts off with Kevin sharing his background information. Kevin goes on to share some great Tips and Tricks that will help new as well as established syndicators in the capital raising process. How can a new investor develop the necessary confidence to approach HNI investors? And, how can you effectively address some common concerns of these investors?
You will also learn about the different regulation types, their pros & cons. We share how the regulation type affects your ability to solicit investors, and hence raise capital. Kevin also recalls the many challenges he faced with an 80-acre land development project in Colorado. What important lessons did Kevin learn from this experience? Listeners will realize why thorough due diligence is crucial before investing in a real estate deal. Tune in to our latest show for some excellent insights!
Time Stamped Show Notes:
00:29 – Whitney introduces Kevin to listeners
01:16 – How did Kevin start off with real estate investing?
01:57 – Kevin shares his strong "Why" for founding Pine Financial back in 2008
03:20 – How can a new investor develop the necessary confidence to approach investors for raising capital?
04:45 – Common concerns of HNI investors in real estate syndication
05:37 – Does the SEC permit syndicators to solicit investors?
06:06 – How a good track record can help you in your capital raising efforts
07:01 – Can projecting yourself as a thought leader help you find more investors?
07:44 – Kevin shares how he structures his educational seminars
09:45 – Pros & Cons of different regulation types in real estate syndication
12:15 – Which CRM does Kevin use to better manage investor communications?
13:23 – Effective ways of being in constant contact with your investors
14:01 – What kind of information does Kevin include in his newsletter?
15:18 – Common mistakes that syndicators make in the capital raising process
17:35 – Kevin shares some interesting details about a particularly challenging 80-acre land development project in Colorado
19:55 – Importance of conducting thorough due diligence before investing in a real estate project
21:56 – How delegating work to an efficient team can place you on the path of high growth
22:48 – What is the single most important thing that has contributed to Kevin's success?
23:27 – How is Kevin giving back to society?
24:04 – Is Kevin looking more investors to meet his capital requirements?
24:23 – Kevin shares his contact information
25:00 – Schedule a call with Whitney now!
25:04 – Join our Facebook group to connect with experts like Kevin
[spp-timestamp time="25:15″] – A Special Thanks to our sponsor, LifeBridge Capital
In this episode, you will learn
How to address the concerns of HNI investors while raising capital in a real estate syndication
Importance of thorough due diligence before making an investment decision
SEC's rules for soliciting investors in a real estate syndication
Resources
Love the show? Subscribe, rate, review, and share!
Join the Real Estate
Syndication Show Community: